Isolicious from CTD, the cereal flavored protein powder
Nov 17th, 2015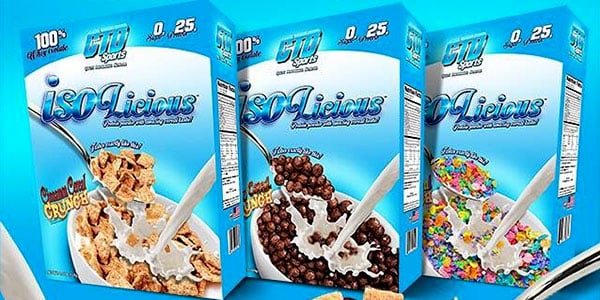 CTD Sports has unveiled an all new supplement today, that if Muscle Sport's Lean Charms or Apple Jacked are anything to go by, is going to get a lot of attention. The name of the product is Isolicious, which as you can see in the picture above isn't exactly your traditional protein powder. Basically CTD is getting ready to release a protein supplement entirely based around the theme of it tasting like breakfast cereal.
Today's Isolicious unveiling hasn't confirmed everything you need to know about it, although it has revealed some details well worth mentioning. From what we can make out the product will have 25g of protein per serving made up of whey isolate, with zero sugar. The other equally important pieces of information we have are the flavors for CTD's cereal tasting Isolicious. So far we know of three for the protein with the Cinnamon Toast Crunch inspired Cinnamon Cereal Crunch, Coco Puffs like Coco Cereal Crunch and the Fruity Pebbles like Fruity Cereal Crunch.
If you're a bit like we were initially and feel Isolicious sounds too good to be true, then you'll definitely be interested to know the supplement isn't actually too far away from shelves. CTD is saying its extremely exciting protein will be available mid december, likely seeing a launch within the next four or five weeks.