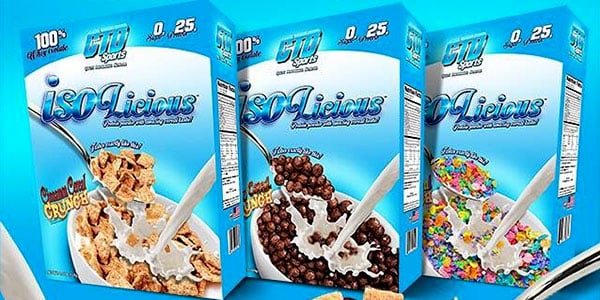 Last week it was confirmed that CTD Sports' cereal inspired protein powder Isolicious would be hitting the online giant Bodybuilding.com for a lot cheaper than it is available direct. The exact price the store will have the supplement at when it arrives is $31.99, a whole $20 cheaper than the brand's own price. As great as that is this week CTD's Isolucious has shown up at another online retailer with a price so much better than Bodybuilding.com's we had no choice but to share it.
The store we'd like to put the spotlight on is Get Ripped Nutrition, where Isolicious has a regular price of $30.99. While that is only a dollar cheaper than Bodybuilding.com, for a limited time Get Ripped actually has a sale on the product separating its price by a lot more than just a dollar. Basically the temporary price on Isolicious is $4 cheaper than Bodybuilding.com at only $27.99, saving you more than 10% per box.
Even if you're slightly interested in the supplement definitely check out the Get Ripped Nutrition deal, and for those that have been waiting a sub $30 price get in while you can.