Ultimate turning its Gold Series into a complete line
Jul 6th, 2017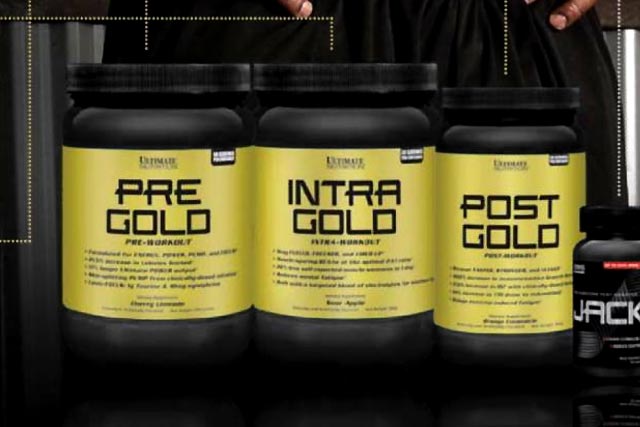 At the moment there are just two supplements in Ultimate Nutrition's Gold Series with the slow release protein Syntho Gold and the original, faster release Whey Gold. Sometime soon that line is going to be turned into a complete series with more than just protein powders in it.
Ultimate Nutrition has previewed three new Gold Series products it has coming soon with Pre Gold, Intra Gold, and Post Gold. As you could probably tell by their names, Pre Gold is a pre-workout supplement, Intra Gold an intra-workout, and Post Gold a post-workout recovery formula.
For now, Ultimate Nutrition has only released a preview of its upcoming Gold Series products and a few highlights and ingredients for each item. For Pre Gold the brand has said that it's designed to deliver energy, power, muscle pumps, and focus with the help of tyrosine and synephrine.
Intra Gold plans to improve endurance, reduce mental fatigue, and help with muscle soreness and hydration using BCAAs at the usual 2:1:1 ratio. Lastly, we have Post Gold, a recovery supplement intended for use after your workout and confirmed to feature at least one ingredient with betaine.
Be sure to stay tuned for more information on the growth of the Ultimate Gold Series and look forward to seeing Pre Gold, Intra Gold, and Post Gold on shelves sometime soon.