5% Nutrition's Drink Sleep Grow focuses more on recovery and growth
Aug 24th, 2017
Rich Piana's 5% Nutrition has launched a new supplement today that's along the same lines as its last one. The name of the new product is Drink Sleep Grow, which is a nighttime recovery formula in the same very category as 5% Nutrition's Knocked The F*ck Out.
More about recovery
While Drink Sleep Grow and Knocked The F*ck Out are both nighttime supplements, they each specialize in different areas. Knocked The F*ck Out is more focused on actually putting you to sleep, whereas 5% Nutrition's Drink Sleep Grow, has fewer ingredients for sleep and more for recovery and muscle building.
Five non-transparent blends
Seeing as Drink Sleep Grow has slightly different intentions to Knocked The F*cK Out, it should come as no surprise that its formula is also quite different. The product features a total of five non-transparent blends, most of which have their own individual purpose.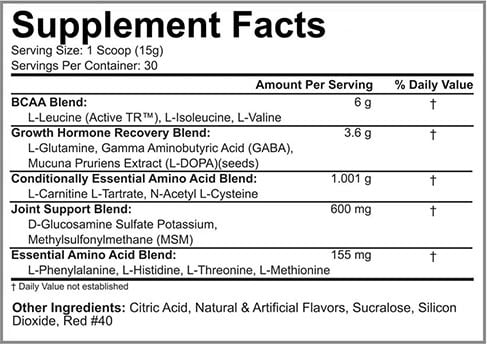 For recovery, Drink Sleep Grow packs 6g of BCAAs, with the leucine side being time-released Active TR leucine, as well as a 3.6g blend of glutamine, GABA, and mucuna pruriens. Next are two more amino blends featuring carnitine tartrate, n-acetyl cysteine, phenylalanine, histidine, threonine, and methionine. Last but not least, there is also joint support in Drink Sleep Grow with a 600mg combination of glucosamine and MSM.
Now available for $34
You can now purchase the new 5% Nutrition Drink Sleep Grow through the brand's main website at 5percentnutrition.com. It is currently in stock in two different flavors with Lemon Lime and Watermelon, at a cost of $33.95 for a full month's supply of 30 servings.