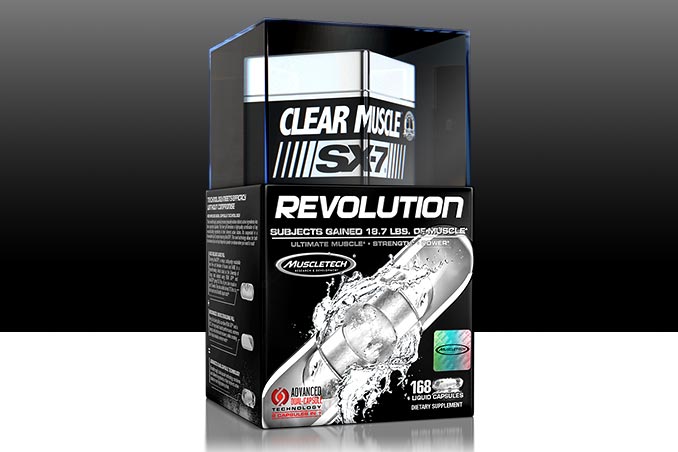 Last week Muscletech released a teaser of yet another SX-7 Revolution Series supplement it has coming soon with the muscle building product Clear Muscle SX-7 Revolution. It is obviously going to be a spin-off of the brand's original Clear Muscle and is expected to also feature BetaTOR HMB free acid.
This week Muscletech has dropped a first look at Clear Muscle SX-7 Revolution, which is interesting, however, it doesn't reveal all that much. The handful of details we get from the preview includes that each bottle will have 168 capsules, exactly like the original, is designed to help with strength and power, and is backed by a study where subjects gained 18.7lbs of muscle.
The most important fact we get from that is the study highlight of 18.7lbs of muscle. The reason being is because Muscletech also promotes that for its stack of Clear Muscle and Plasma Muscle as well as its SX-7 Pro Clinical Muscle Stack. Both have the combination of BetaTOR HMB free acid and Peak ATP in common, suggesting that may be the mystery mix that's in Clear Muscle SX-7 Revolution.