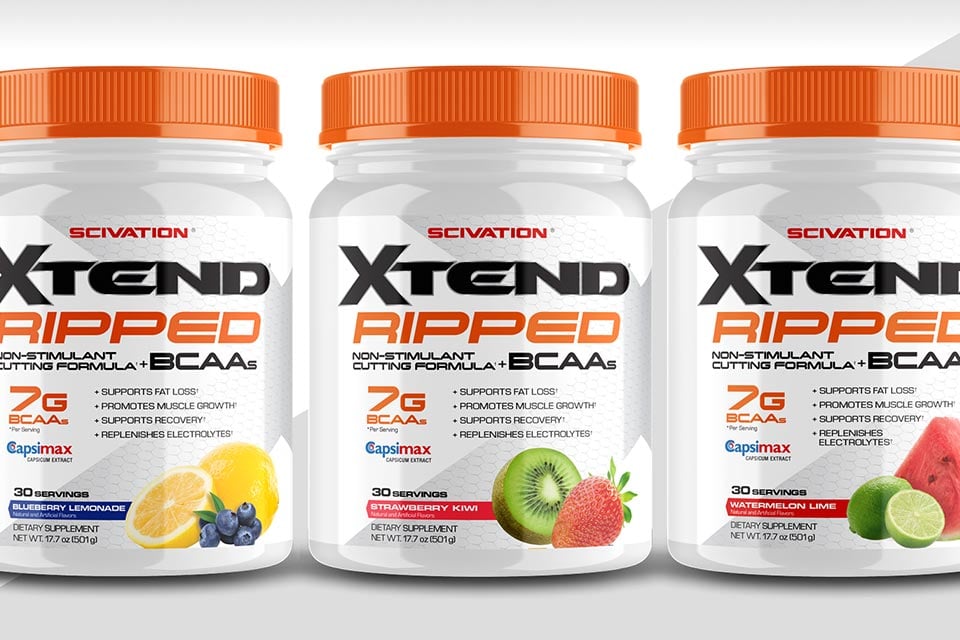 Since its first expansion of Xtend, Scivation has turned the original BCAA supplement into a full family of products. Xtend fans can now get the BCAA formula as a convenient RTD, without artificial colors and flavors as Xtend Free, mixed with energy as Xtend Go, and as the performance enhancing Xtend Perform.
Xtend plus weight loss
Scivation has now revealed that another Xtend expansion is on its way to shelves with Xtend Ripped. Like a lot of other supplements that use the word "Ripped" in their name, Xtend Ripped is a combination of weight loss and BCAAs. The product has all of the recovery and muscle growth benefits of the original Xtend as well as support for fat loss.
Original formula intact
The formula behind Scivation's new Xtend Ripped includes everything from the regular Xtend with BCAAs, citrulline malate, glutamine, and electrolytes, and all at the same doses. What makes the supplement different is it also features three other ingredients for weight loss. On top of everything else Xtend Riped has 850mg of CLA, half a gram of carnitine l-tartrate, and 50mg of CapsiMax cayenne pepper.
3 flavors, 1 tub size
While Xtend Ripped is not yet available in stores, today we can confirm what options you'll have when it eventually hits shelves. Each tub of Scivation's latest Xtend expansion will pack the usual 30 servings, suggesting it will have a slightly higher price per tub compared to the 30 serving original. As for its menu, the product is going to have three flavors to choose from in Watermelon, Blueberry Lemonade, and Strawberry Kiwi.