All-natural NaturaLyte featuring pure sea salt and coconut water
Oct 24th, 2017
MTS Nutrition's all-new supplement NaturaLyte has been completely unveiled today in anticipation for its release later this week. As previously confirmed, NaturaLyte is the brand's hydration solution, designed for use during a workout or throughout the day.
The latest MTS Nutrition innovation is an all-natural electrolyte formula intended to simply enhance your water. It's built primarily to keep you consistently hydrated with a combination of balanced electrolytes and health benefits from coconut water.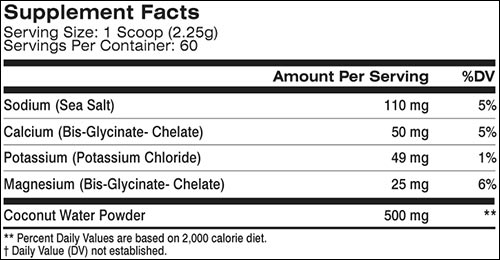 The lead ingredient in MTS NaturaLyte is sodium from sea salt, which brings with it extra minerals and nutrients you don't get in traditional table salt. Along with the sodium dosed at 110mg per serving you get a handful of electrolytes and half a gram of coconut water.
As mentioned earlier, the new hydration product from Marc Lobliner and MTS is dropping at Tiger Fitness later this week. It'll be available in the one 60 serving tub size and the one all-natural Lemonade flavor at a price of $29.99.