VMI Sports recently released a fairly concentrated, liquid carnitine supplement featuring 3g of carnitine per serving from three different forms of the ingredient. It turns out, that's not the only carnitine product the brand has launched lately, as there is in fact another, slightly different one now out there.
Alongside VMI Sports' Carnitine 3000, which features a carnitine only formula, the brand also has Carnitine 1500 Heat. Staying true to its title, VMI's Carnitine Heat does provide 1,500mg of carnitine per serving, although that's not all that's in the supplement.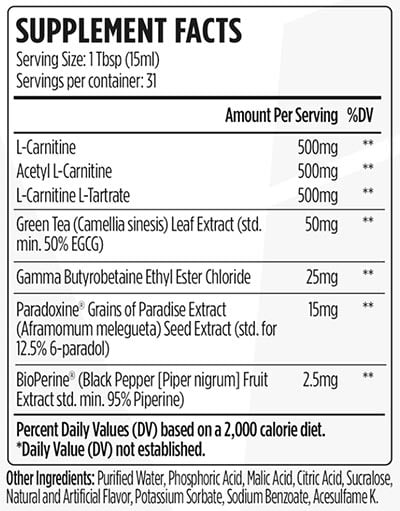 On top of Carnitine Heat's half a gram each of regular l-carnitine, acetyl-l-carnitine, and carnitine tartrate. VMI Sports has thrown in 50mg of green tea, 15mg of Paradoxine grains of paradise, 25mg of GBB (gamma-butyrobetaine ethyl ester HCl), and 2.5mg of BioPerine black pepper.
Much like Carnitine 3000, Carnitine Heat aims to boost metabolism, enhance calorie burning, accelerate fat loss, and increase thermogenesis. You can get the product now through the VMI Sports' website in the same flavors as 3000 with Patriot Pop, Gummy Bear, and Orange Pineapple.