Aug 9th, 2018
Following on from its complete unveiling of the testosterone boosting pre-workout, Alpha King Fury. Force Factor has shared everything you need to know about its other upcoming supplement, the HGH formula Prime HGH.
What is it
Force Factor's Prime HGH is designed to trigger HGH production, improve male performance, and increase workout force. We now know it features five main ingredients to deliver on those benefits, all of which have been transparently dosed, so you know how much of each one you get per serving.
Formula
The biggest features of Prime HGH are AlphaSize alpha-GPC and the aminos arginine and lysine pyroglutamate. Force Factor highlights on the package of the product that in a recent study, AlphaSize showed that combined with strength training it generated "a significant increase in HGH versus exercise alone."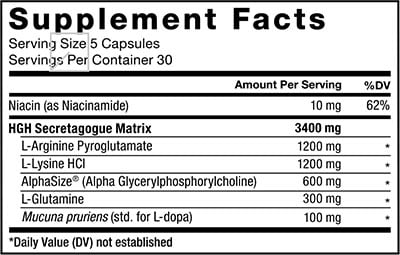 Prime HGH also mentions a study done with arginine pyroglutamate and lysine that saw a "700%+ increase in acute serum HGH secretion." Along with those two aminos dosed at 1.2g each and 600mg of AlphaSize alpha-GPC, Force Factor's Prime HGH includes 300mg of glutamine and 100mg of mucuna pruriens.
Launching soon
According to Force Factor, Prime HGH will be launching sometime soon through the major retailer GNC. It'll come in a bottle of 150 capsules which is enough to last you 30 days, with GNC set to carry it at a price of $69.99.