Just five days out from the actual launch of the supplement, Performax Labs has revealed the combination of ingredients behind its promising new pre-workout, HyperMax Extreme. The product is the more intense follow-up to the brand's original and top-rated pre-workout HyperMax.
When it comes to the ingredients in the all-new HyperMax Extreme, the combination is very similar to its predecessor. It packs a nice even balance for an all-around experience with ingredients for intense energy, enhanced mental focus, improved performance, and better muscle pumps.
Ingredients
Taking care of the energy and focus in HyperMax Extreme is 250mg of eria jarensis which is 25% more than the original, 400mg of b-phenylethylamine. 60mg of hordenine, 50mg of synephrine, a gram of tyrosine, 2mg of rauwolfia, and a heavy 400mg of caffeine.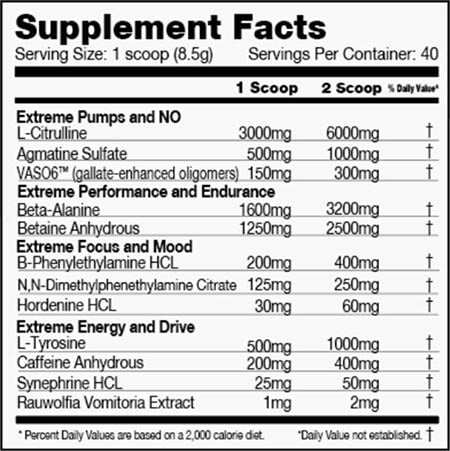 On the other side of the upcoming pre-workout, you have all of its ingredients for performance and pumps. In that department, Performax Labs has included 3.2g of beta-alanine, 2.5g of betaine, a gram of agmatine, 300mg of Vaso6, and a solid 6g of pure citrulline.
Just as Performax Labs said, HyperMax Extreme is essentially a more intense version of HyperMax, which the formula does reflect. It has a new ingredient to help with pumps in Vaso6, as well as higher doses of some of its stimulants to ensure it delivers on its "Extreme" title.
Where to buy
As previously confirmed, Performax Labs plans on launching its latest pre-workout creation in just five days on Wednesday the 30th of this month. To start, the supplement will be exclusively available through the retailer Natural Body in Orange Mango and Berry Lemonade flavors.