Nitratest is the latest pre-workout supplement from VMI Sports, who does already have a couple of competitors in the category with the stimulant powered K-XR and Ketogenic Pre-Workout. The brand's newest product sets itself apart from those other two by being a testosterone boosting pre-workout.
VMI Sports Nitratest features quite an interesting mix of ingredients for a variety of benefits that includes more than just testosterone boosting. For energy and focus the supplement has a transparent blend of tyrosine, theanine, hordenine, betaine, and three types of caffeine providing a combined 375mg of caffeine per serving.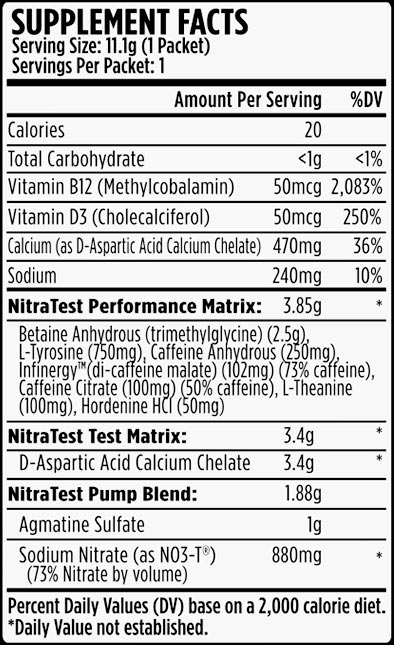 The other half of the product is where the testosterone part of Nitratest comes in as well as a few other ingredients to help enhance muscle pumps. For testosterone boosting the pre-workout includes 3.4g of d-aspartic acid calcium chelate, then for those extra pumps you get a gram of agmatine and 880mg of NO3-T sodium nitrate.
VMI Sports has launched Nitratest this week in an impressive selection of flavors including Miami Vice, Green Apple, Rainbow Candy, Strawberry Kiwi, Gummy Bear, and Patriot Pop. All six of those options are now in stock and available for purchase through the brand's online store at $39.99 for a full-size, 30 serving tub.