ANS Performance has put together an all-new mass protein supplement that separates itself from its original N-Mass by being more of a lean gainer. The brand's latest product is appropriately named Lean Mass which features a balanced nutrition profile and includes premium protein and carbohydrate sources.
ANS Lean Mass has an even one to one ratio of protein to carbohydrates, packing 30g per serving with 4g of the carbs being sugar and 2g fiber. The protein comes from a blend of whey concentrate and isolate, milk isolate and casein, while the carbs come from a blend of maltodextrin, brown rice, oats, sweet potato, chia seed, and quinoa.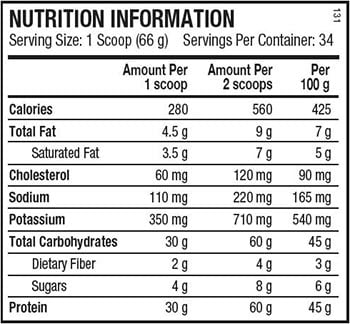 The new ANS Performance supplement is much lower on the fat side of things with just 4.5g per serving, and it also has creatine monohydrate in the mix at a dose of 3g. The product comes in two traditional tastes with Rich Milk Chocolate and Vanilla Soft Serve, both available in the one 5lb, 34 serving tub size.
ANS Lean Mass is now in stock and available for purchase directly from the brand's online store where at the moment it will cost you $49.99 per tub. The supplement is due to hit stores later this month in Australia and New Zealand then Canada and a few other international locations within the next few months.