ANS Performance swaps in DAA for its flavored version of Fortitude
May 5th, 2019
ANS Performance has introduced an all-new option for its testosterone boosting supplement Fortitude, which was reformulated and relaunched back in 2017. The latest product from the brand is a powder version of Fortitude, and just like the original, it aims to provide a comprehensive experience.
The flavored ANS Performance Fortitude has two tastes to choose from in Sour Candy Blast and Blue Bombsicle, and it has the same 30 servings per tub. When it comes to ingredients and doses, the brand has also kept most of that the same, with only a few changes made for the pill to powder transformation.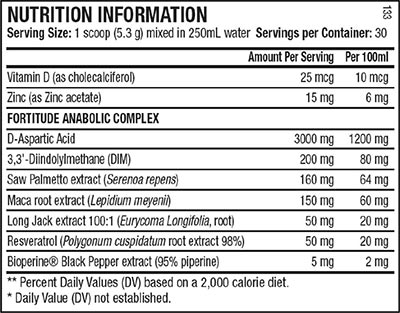 Everything in the capsule Fortitude has been carried over to ANS Performance's Fortitude powder except for the 600mg of KSM-66 ashwagandha and 300mg of Ferutest ferula assa-foetida. The brand has actually replaced those two ingredients in the flavored Fortitude with 3g of d-aspartic.
You can now grab ANS Performance's new Fortitude powder over on its website, where both of its flavors are in stock at a price of $39.99 per tub. The supplement is also available down under in Australia with the retailer Elite Supps selling the same formula and flavors for $79.95 (55.71 USD) each.