Julian Smith and Doug Miller's exciting and upcoming supplement company has unveiled its fourth and final product with the pump pre-workout Daily Pump. Much like the other three supplements in the brand's lineup, Daily Pump features a pretty full on combination of ingredients to enhance pumps while you workout.
The pump pre-workout category has become quite competitive over the past year, with a number of truly impressive and effective products taking on the market. Arms Race Nutrition's Daily Pump features a hefty amount of active ingredients with each maximum, two-scoop serving tipping the scales at 15.5g.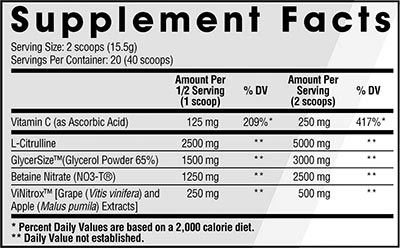 The heaviest ingredient in the Daily Pump formula is the commonly used pump enhancer pure citrulline at 5g. Alongside that, Arms Race Nutrition has thrown in 2.5g of NO3-T betaine nitrate, half a gram of the branded ViNitrox, and lastly 3g of the quality GlycerSize glycerol which previously went by the name GlycerPump.
Daily Pump will pack 20 maximum servings per tub and have three flavors to choose from in Pineapple Mango, Tart Candy Strings, and Orange Twist. Arms Race Nutrition and its line of supplements is due to hit the market in two and a half weeks on Monday the 24th of June through the website armsracenutrition.com.