Jun 27th, 2019
The Genius Brand has entered the world of gaming supplements this week with Genius Gamer. Like most other, more experienced brands getting into the growing gaming category, the new Genius entrant includes ingredients for a bit more than the usual energy and mental focus.
The Genius Brand's all-new Genius Gamer comes with quite the variety of ingredients, although some are dosed a bit lighter than what we're used to seeing from dedicated energy and focus products. The brand promotes the supplement for improved energy, focus, reaction time, clarity, and blue light protection.
Formula
When it comes to ingredients, you can see the full formula behind the Genius Brand's Genius Gamer in its official facts panel below. It comes with a fairly light hit of caffeine at 25mg per capsule from two sources, along with 16mg each of Dynamine and TeaCrine, and Lutemax 2020 for the blue light protection.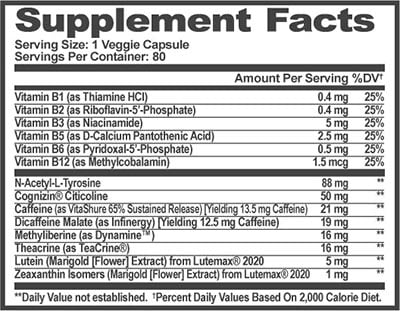 While the caffeine is a little lighter than we're used to, even compared to energy drinks like Monster Ultra, the Genius Brand doesn't say anything about having more than the one capsule. On the product's tub, it directs users to have just the one, and not to exceed the recommended amount.
Where to buy
Genius Gamer is now listed as available to order on Amazon however if you do decide to order, the online store says it won't arrive until somewhere between the 3rd and 8th of next month. Either way, the price on the all-new gaming product is $32.99 per bottle which packs a total of 80 single-serving capsules.