NO3 Drive Powder is ProSupps' flavored pump pre-workout that was originally only available in capsule form. Years ago the brand launched it in flavored powder, and last we knew it combined four different types of agmatine with pure citrulline and HydroMax branded glycerol.
Earlier this year ProSupps quietly released an all-new version of NO3 Drive Powder that brings a lot of changes to the supplement's formula. The pre-workout is still stimulant free and designed to enhance muscle pumps; however it now has a different set of ingredients to get the job done.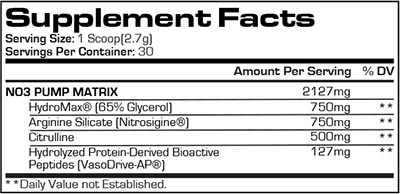 ProSupps' NO3 Drive Powder no longer features agmatine of any kind, although it does still contain HydroMax glycerol at 1.5g per maximum serving. Alongside that, the brand has included a gram of citrulline, 1.5g of Nitrosigine, and 254mg of the branded VasoDrive-AP.
As mentioned, ProSupps launched its new NO3 Drive Powder earlier this year, so if you visit your favorite ProSupps store, there is a good chance it will already be stocking the product. The new pump formula comes in Fruit Punch and Blue Razz flavors with 15 maximum servings or 30 regulars per tub.