AK-47 Labs unveils its testosterone booster "Get The Strap"
Sep 12th, 2019
The up and coming brand AK-47 Labs, that is now widely distributed across Europe through Prometeus, has announced an all-new supplement. Joining the German-based company's first two, category-named products in Pre-Workout and Fat Burner, is a testosterone boosting supplement.
The name of AK-47 Labs' third-ever product is not as straightforward as its other items with its official title being "Get The Strap". As mentioned, it is a testosterone boosting supplement that'll be on shelves in Europe very soon. The brand's distributor Prometeus is getting stock of Get The Strap next week, with in-store availability to follow.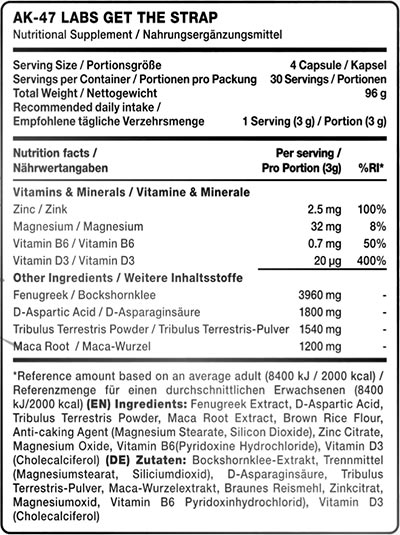 To help Get The Strap deliver on its promise of boosting testosterone, AK-47 Labs has packed it with six main features, all of which are fairly common for the category. Per serving, the brand's newest product packs 1.2g of maca, 3.96g of fenugreek, 1.54g of tribulus, and 1.8g of DAA, as well as ZMA and vitamin D3.