GPOP is a high-protein popcorn snack that is due to be available in stores shortly. We were sent a few bags of the finished product to try and can confirm it tastes as good as it looks. GPOP's macros aren't as lean as a traditional protein bar, although if you're just looking for a high protein treat, it fits the bill perfectly.
Each bag of GPOP Protein Popcorn provides 13g of protein alongside a high 30g of carbohydrates with 12g of that sugar, 10g of fat, and 260 calories. As mentioned, it's not as lean as a typical protein bar with 20g of protein and 220 calories, but for those of you simply after a fun and tasty treat with a bit of protein, you will not be disappointed.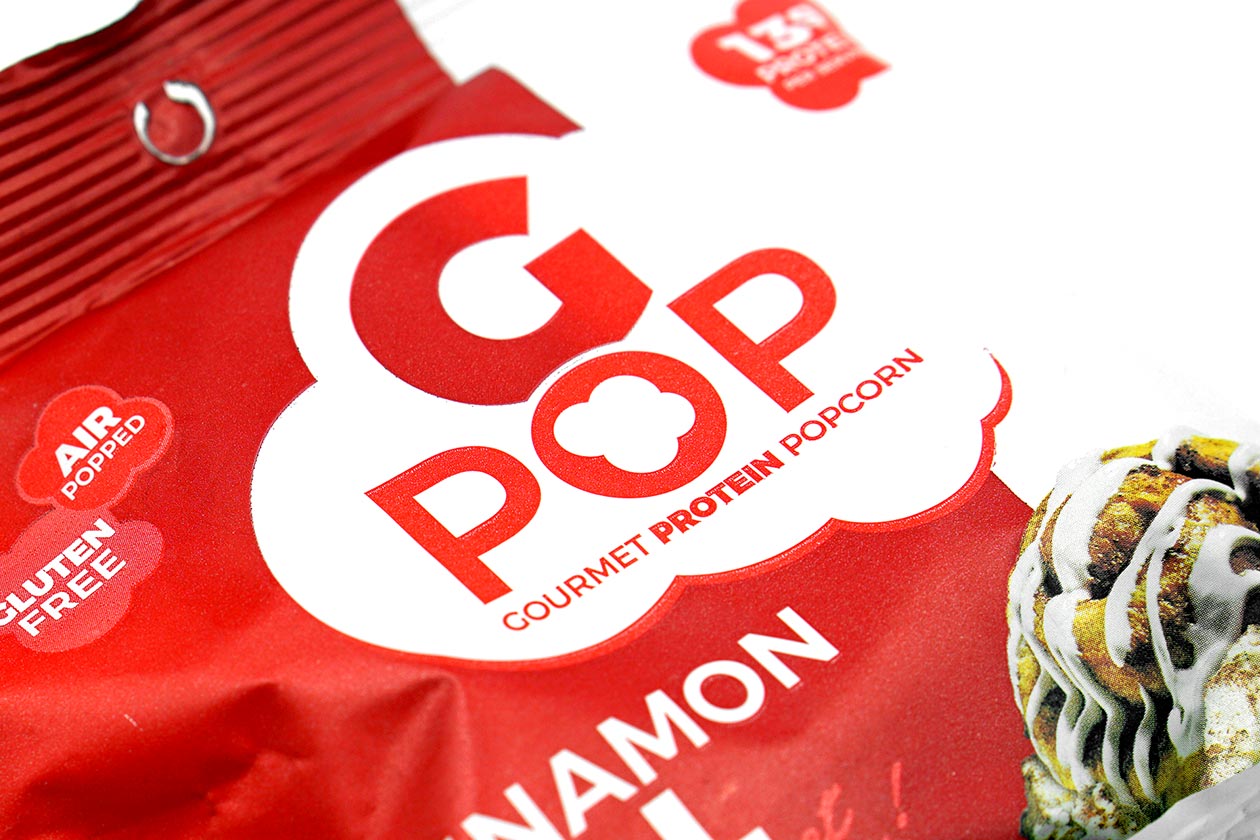 Review
While there are some other protein popcorns on the market, GPOP Protein Popcorn has one of the best combinations of taste and texture, plus a slightly better ratio of protein to calories. Each piece of GPOP comes with a sweet and thick outer layer, and a very airy bit of popcorn in the center that also packs a classic popcorn taste.
GPOP Protein Popcorn comes in four flavors with Cinnamon Roll, B-Day Cake, a chocolatey Peanut Butter Cup, and a decadent Chocolate Lava. No matter which one you go with, all of the flavors deliver a strong, obvious, and delicious taste except for maybe the Cinnamon Roll, which is the lighter one of the family.
Our favorite of the GPOP Protein Popcorn flavors is the Peanut Butter Cup with the B-Day Cake and Chocolate Lava being incredibly close behind. The Peanut Butter Cup takes the crown for us due to its ability to deliver both a sweet and rich chocolate taste and a creamy, realistic peanut butter base.
While the Peanut Butter Cup GPOP Protein Popcorn is great, as mentioned, the B-Day Cake and Chocolate Lava are a very close second and third. The Chocolate Lava is a truly decadent chocolate creation perfect for chocolate lovers, while the B-Day Cake gets across that classic birthday cake sweetness with a subtle and smooth creamy taste.
Summary
If you're a fan of protein-infused snacks and can fit its macros into your diet, GPOP Protein Popcorn needs to be on your list when it eventually hits stores. Its sweet and thick outer layers lure you into eating one handful after another, and it tastes so good you won't regret it.