VasoForce Rush combines VasoForce XT with a blend of stimulants
Nov 25th, 2019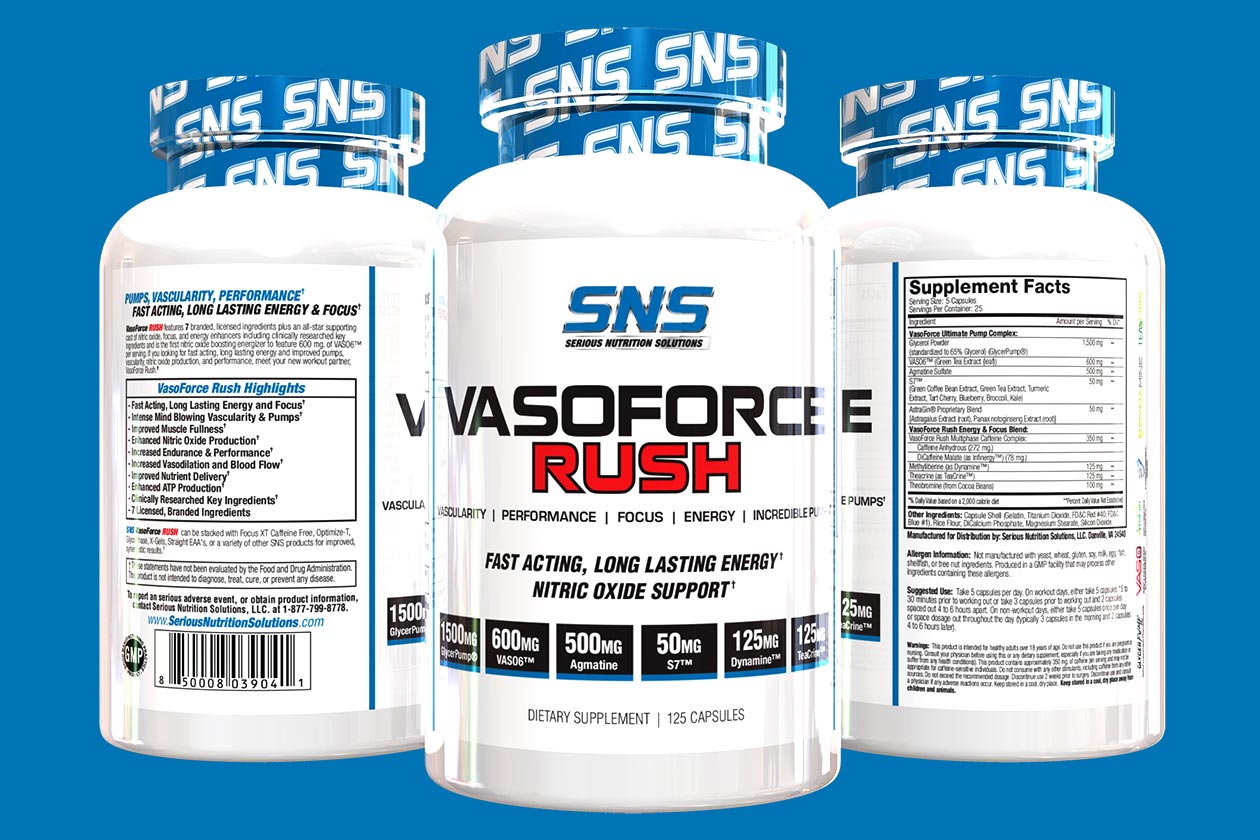 VasoForce Rush is the stimulant infused spin-off of Serious Nutrition Solution's muscle pump enhancing pill formula, VasoForce XT. All of the ingredients that are in the original are actually in VasoForce Rush, so you get the same pump experience along with a handful of ingredients for an additional "Rush".
VasoForce Rush formula
To take care of the pump benefits in VasoForce Rush, as mentioned, SNS has carried over every ingredient from VasoForce XT, including their original dosages. Per serving, you get 1.5g of GlycerPump glycerol, 50mg of the S7 blend, half a gram of agmatine, and 600mg of Vaso6.
The other half of the formula behind VasoForce Rush is where its "Rush" comes in with five ingredients to increase energy and enhance mental focus. It includes the Compound Solutions' pair of TeaCrine and Dynamine at 125mg each, as well as theobromine and 350mg of caffeine from two separate sources.
VasoForce Rush is ideal for fans of SNS that enjoy the original VasoForce XT, but would appreciate it a little more if stimulants were also in the mix. The Rush spin-off does exactly that, combining everything that makes up the original with reliable energy and focus boosting features.
Where to buy
To start, VasoForce Rush will only be available from DPS Nutrition in the US, with the retailer due to get stock in just a couple of days. When it arrives, DPS is going to be running a sale where you can get 25% off the supplement's regular price with the code "DPS10", dropping it down to $29.96 for a 25 serving bottle.
SNS has also launched VasoForce Rush in the UK through its partner Power Myself, who unlike DPS Nutrition, already has the new pump, energy, and focus product in stock. Being international, the price of the stimulant-infused VasoForce Rush is a bit higher at £44.99 (57.95 USD) per bottle.