Earlier this year, the UK company Chaos Crew introduced its flavored fat burning supplement Shredz featuring a solid mix of stimulants including the likes of juglans regia, eria jarensis, and of course, caffeine. The brand has now announced that its weight loss competitor is soon going to be available in Australia but with a different formula.
Chaos Crew still promises to deliver a comprehensive combination of energy, focus, fat loss, and thermogenesis with the Australian version of Shredz. As mentioned, the difference is that it's going to do so with a slightly different mix of ingredients, as well as lower and higher dosages of some key features.
The formula behind Chaos Crew's Australian Shredz is actually almost the same as the original with two ingredients being replaced and three having their dosages moved around.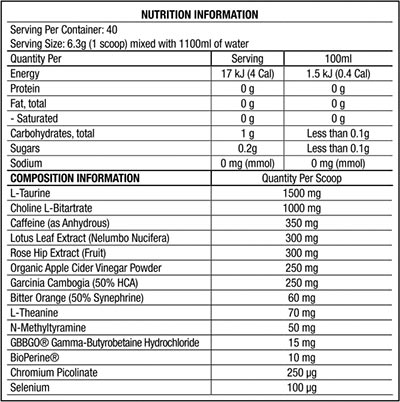 The ingredients that Chaos Crew has swapped out for Shredz in Australia are the stimulants juglans regia and eria jarensis, with synephrine and n-methyltyramine taking their place. As for the different dosages, there is 200mg less nelumbo nucifera, 40% more caffeine at 350mg, and 15mg of GBBgo instead of 25mg of ProGBB.
Shredz still appears to be a fairly intense weight loss product, especially with that strong 350mg of caffeine per serving. Chaos Crew's slightly reformulated fat burner will be hitting Australia soon in a 40 serving tub size with four flavors to choose from in Watermelon, Strawberry Kiwi, Peach Mango, and Raspberry.