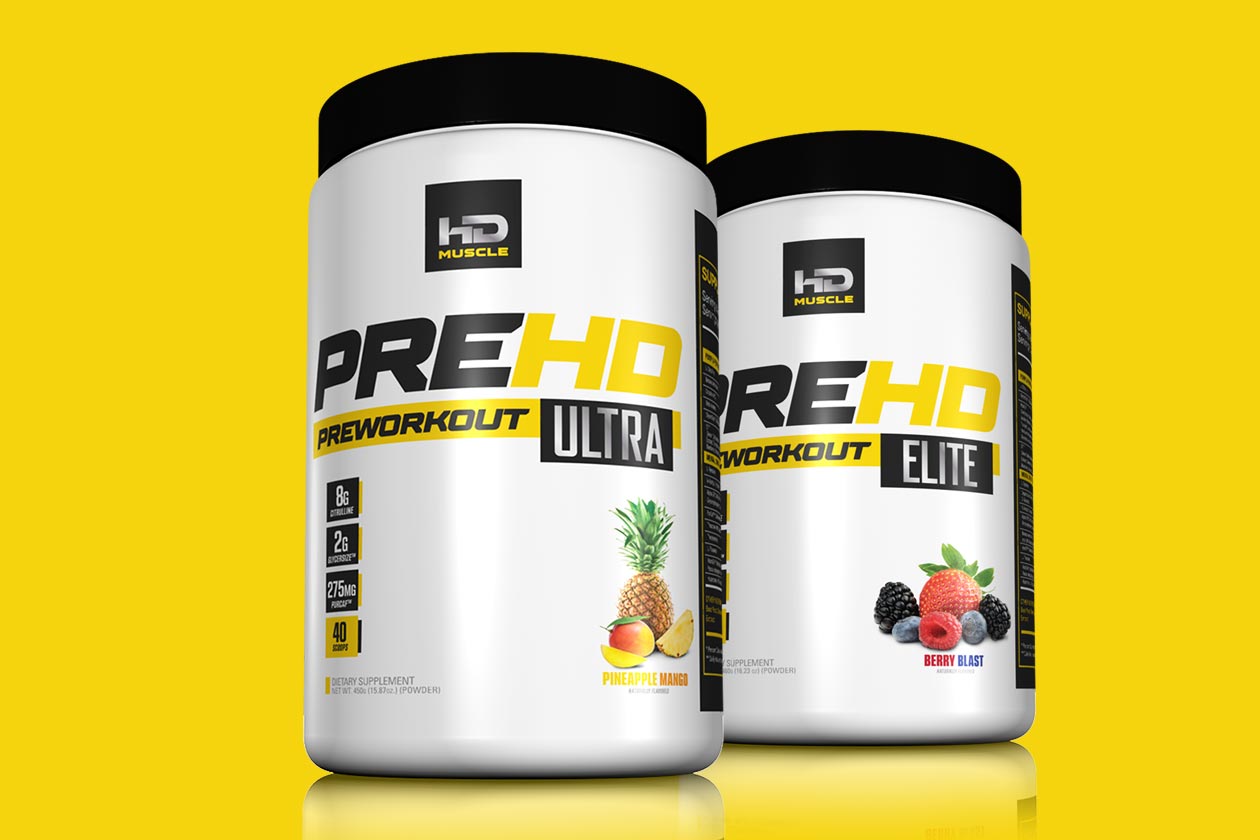 HD Muscle is an all-new supplement company that just hit the market today with a full family of products and is supported by major athletes such as Antoine Vaillant and Brandon Harding. The brand's initial lineup consists of six different supplements spanning most of the major categories, including pre-workout, weight loss, and amino.
All of HD Muscle's first six products are fully transparent, and come with some pretty full-on dosages. The brand's pre-workouts Pre-HD Elite and Pre-HD Ultra are great examples of that, featuring loaded formulas for all of your pre-workout needs, with Ultra (below left) being a stimulant pre-workout and Elite (below right) being stimulant-free.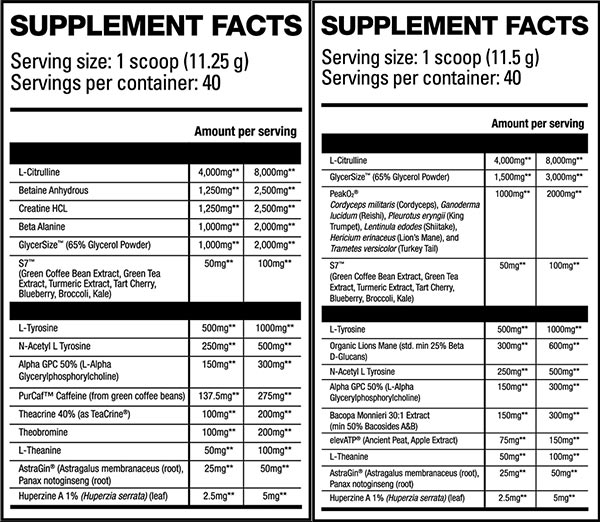 Both of HD Muscle's Pre-HD supplements come with a hefty 8g of pure citrulline per maximum serving. In Pre-HD Ultra you also get highlights such as 2.5g of each of betaine and creatine HCl, and 200mg of TeaCrine. As for Pre-HD Elite, that comes with a more focus enhancing combination, including 600mg of lion's mane and 300mg of bacopa.
Once again, HD Muscle has done a pretty solid job on the formula side of its products, and as mentioned, the Pre-HD pre-workouts are just great examples of that. The brand's amino Intra-HD is packed with 10g of all nine EAAs plus PeakO2, and its carbohydrate formula Carb-HD is made with only quality carb sources in Carb10 and Cluster Dextrin.
While HD Muscle has launched with six supplements, there has already been confirmation of more on the way. The brand's current line consists of the Pre-HD, Intra-HD, Carb-HD, the fat burner Burn-HD, and the GDA Glyco-HD. A couple of the other items coming soon include the intense stimulant pre-workout Pre-HD Black and the multivitamin Vita-HD.
To get a closer look at everything HD Muscle has to offer, head on over to its website where all of its supplements are now available for purchase, except Glyco-HD. The brand's products are all around the same price with Pre-HD Elite, Pre-HD Ultra, Burn-HD, and Glyco-HD at $49.99 each, while Burn-HD and Carb-HD are slightly cheaper at $44.99.