Tomorrow, at precisely midday Eastern Time, Obvi is launching its more traditional weight loss supplement with Collagenic Burn. Like a lot of other entries in the highly competitive fat burning category, Collagenic Burn features caffeine for energy, along with a few other weight loss ingredients, as well as collagen to keep with that Obvi theme.
On the collagen side of Collagenic Burn, Obvi has a blend of five different types of collagen combining for a gram per serving, including bovine, fish, and chicken bone broth collagen. The blend is there to provide all of the usual collagen benefits that fans of the brand should be quite familiar by now with support for healthy hair, skin, nails, and joints.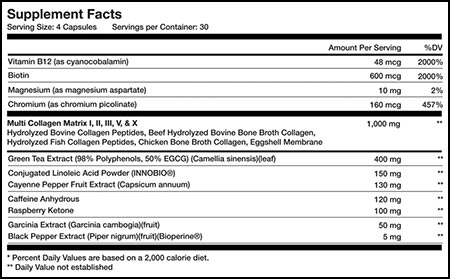 Making up the other half of the Obvi product, with all of the weight loss supporting ingredients, you have the likes of green tea at 400mg and a reasonable 120mg of caffeine for energy. There is also 50mg of garcinia cambogia, 150mg of Innobio branded CLA, 100mg of raspberry ketones, and lastly, 5mg of BioPerine black pepper to improve absorption.
Once again, Obvi is set to launch its fat burner Collagenic Burn, tomorrow at 12PM Eastern Time through its online store, myobvi.com. If you actually head to the website now, you can order the supplement, but as a pre-order, for shipping on Monday of next week. The product will cost you $34.99 per bottle, with the usual total of 30 servings in each.