Introducing Vayu and its eye-catching new line of four different supplements
May 4th, 2020
Vayu is an all-new supplement brand that has just hit the market in Germany and with a truly eye-catching label design. The brand's black and red line of products drops all of the little details and pieces of information in favor of a vague and intriguing look that is dominated by its 'V' logo, which is consistent across its entire family of supplements.
Vayu's has launched with four different products, all of them developed with professional bodybuilders, and with quality and performance being a primary focus. The newcomer's lineup includes the packed out pre-workout Nitro, and the rather simple but convenient formula Meta+, combining caffeine, green tea, and synephrine for anytime energy.
The other two items from Vayu are 2C+, a fairly straightforward protein powder providing 23g of protein from whey concentrate, then finally, the loaded amino supplement mTOR. Vayu's mTOR features a huge 19.9g of EAAs, with all nine EAAs in the mix except for histidine, plus the brand has also thrown in a blend of electrolytes to support hydration.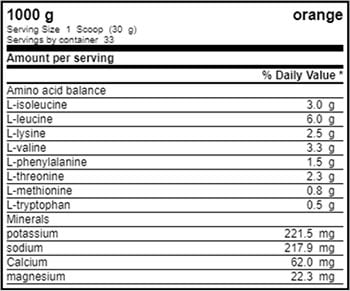 All of Vayu's products are flavored formulas, with some of them having quite a unique selection of tastes to choose from. The anytime energy supplement Meta+ comes in Green Tea Lemon, while mTOR (label above) is a little more familiar with Orange. You then have the protein 2C+ and its four options Vanilla, Chocolate Vanilla, Peach Yoghurt, and Rice Pudding Cinnamon.
Three of Vayu's first four products are now available for purchase through the major German supplement retailer Gigas Nutrition, with the pre-workout Nitro being the one that's missing. From Gigas, Meta+ will cost you €29 for a large 90 servings, €39 for a 1.5kg, 50 serving tub of 2C+, and mTOR is the most expensive at €59 for a tub of 33 servings.