Aug 18th, 2020
While Jordan Peters' brand Trained By JP Nutrition has a diverse lineup with many different types of supplements, there was one category it was noticeably absent from, and that was weight loss. Today, Peters and his brand have ended that absence with the reveal and release of CV-Burn, a stimulant-powered fat burner that is just as well-dosed as some of Trained By JP Nutrition's other products.
CV-Burn has been formulated to give you the fuel you need for a cardio session and the power to get you through the day while dieting at an always enjoyable calorie deficit. The supplement comes with several ingredients to increase energy, enhance focus, and improve mood, as well as a couple of ingredients to support weight loss and further your results while sticking to your diet.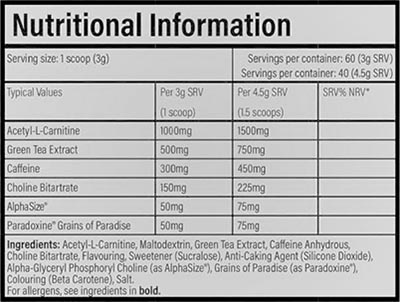 Each tub of Trained By JP Nutrition's CV-Burn comes with 60 servings, with the brand suggesting you throw back a maximum of two per day. Based on that maximum, two servings will see you take in 2g of acetyl-l-carnitine, a gram of green tea extract, 100mg of AlphaSize alpha-GPC, 300mg of choline bitartrate, 100mg of Paradoxine grains of paradise, and 600mg of caffeine, as mentioned, split into 300mg per serving.
Fans of Trained By JP Nutrition and anyone else in the new CV-Burn, can grab it from the brand's online store, alongside its many other products. The weight loss supplement does come in powder form with just the one flavor to choose from at the moment in Orange. As for its price, CV-Burn is relatively cost-effective at £24.99 (32.91 USD) for a tub that can last you from one to two months.