Naughty Boy has shared the formula behind an upcoming supplement that looks to be a special edition version of its stimulant pre-workout Menace. The UK lifestyle brand is making it look like a Halloween edition product, which is only about a month and a half away. If Halloween is the theme behind Naughty Boy's upcoming item, then there's also a good chance it won't be an ongoing supplement.
You can see the combination of ingredients behind what we suspect to be a Halloween edition Menace in the facts panel below, and it is indeed a packed out pre-workout. To deliver better pumps and improved performance, Naughty Boy has included a hefty 8g dose of pure citrulline, 4g of beta-alanine, 3g of betaine, elevATP, premium Vinitrox, and 2g of the all-new and more stable HydroPrime glycerol.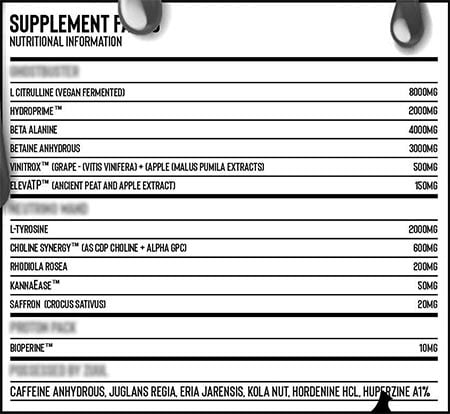 The rest of Naughty Boy's Halloween edition Menace formula is made up of ingredients for increased energy and enhanced focus with 2g of tyrosine, KannaEase, and a 600mg choline blend. There is also an intense blend of stimulants in the product, including eria jarensis, juglans regia, kola nut, hordenine, and of course, caffeine, although we don't know much is in there or the total weight of the stim blend.
Naughty Boy is saying it'll have more information on its mysterious new supplement soon; however, we are fairly confident with our guess at a limited and loaded Halloween edition of Menace. As mentioned, Halloween is also right around the corner at about one and a half months away, and you have to imagine the brand will have the product available in time for the day.