Dec 23rd, 2020
Nutritox is a brand from the same team behind the reputable sports nutrition company MAN Sports. The key difference is, Nutritox focuses more on health and wellness type supplements such as multivitamins, beauty, digestion, and joint support. This week it is adding another item to that gradually growing health and wellness lineup with Immune Boost.
Similar to other products under the Nutritox banner, Immune Boost features a complex combination of ingredients brought together to support and protect your immune system. You can see that complete list of elements in the facts panel below, including a variety of vitamins and minerals, such as vitamin d, vitamin k1 and k2, zinc, and of course vitamin c, at a hefty 2g.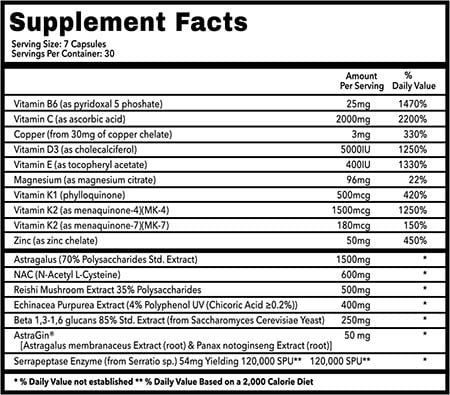 Alongside the various vitamins and minerals, Nutritox Immune Boost comes with a handful of premium ingredients such as NAC at a solid 600mg per serving, 250mg of beta-glucan, and 400mg of echinacea. As mentioned, everything is in there to support and protect your immune system, and all wrapped up in a rather large seven capsule serving.
The team at Nutritox is looking to drop Immune Boost sometime this week through its website, which with only a few days left in the week and Christmas just two days away, we imagine it'll be sooner rather than later.