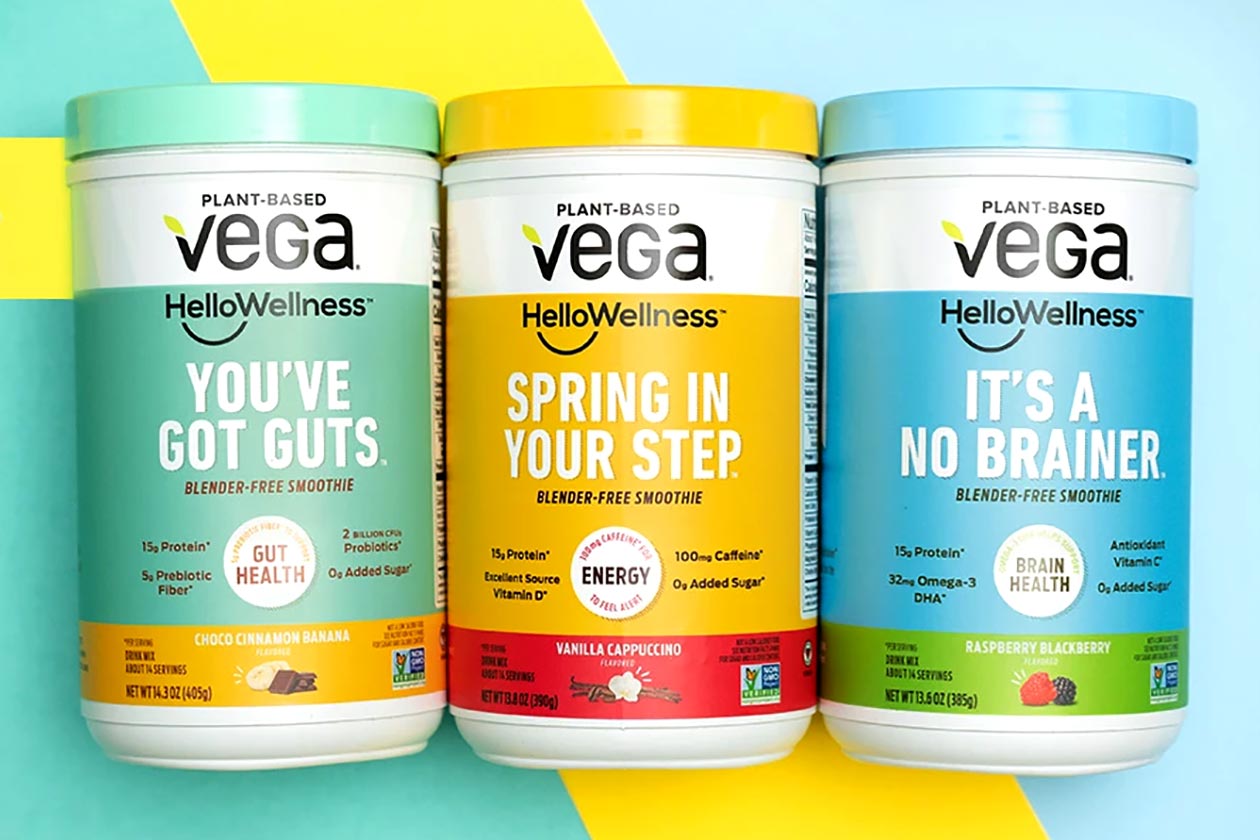 Hello Wellness is an all-new series of wellness-enhanced protein supplements from Vega. It consists of three creatively named products, each for a different part of daily health and nutrition. The brand promotes the supplements as blender-free smoothies, intending to offer various health benefits that you would typically get from blending your own smoothie at home.
You've Got Guts
The three products making up Vega's Hello Wellness line include "You've Got Guts" to support gut health, digestion and give you a good source of protein. The supplement features probiotics providing two billion CFUs, a solid 5g of prebiotic fiber, enzymes for digestion, and 15g of protein from pea and pumpkin seed protein with 9g of carbohydrates, 2g of fat, and 110 calories.
Spring In Your Step
Next up is Vega's "Spring In Your Step", a good morning product formulated to help kick start your day. This one comes with a good amount of vitamin d, a moderate 100mg of caffeine for a nice boost in energy, and that 15g of protein that's consistent across all of the Hello Wellness Series supplements from a blend of pea and pumpkin seed protein.
It's A No Brainer
The last member of the family is "It's A No Brainer", with a handful of vitamins and minerals, including a light 20mg of vitamin c, 32mg of the omega-3 fatty acid, DHA, and of course, that consistent 15g of plant-based protein. The rest of the nutrition profile on this one is 5g of carbohydrates with 1g each of that sugar and fiber, 2g of fat, and a calorie count of 110.
The goal of each Vega Hello Wellness supplement is made quite obvious in their names with "You've Got Guts" for gut health; "Spring In Your Step" for energy; and "It's A No Brainer" for brain health. As mentioned, they're all essentially protein powders providing that consistent 15g of protein with those few extra ingredients and benefits being what separates them.
Where to buy
Vega's entire Hello Wellness series is available through its online store, and to make things easier, they all cost exactly the same at $29.95 for a tub of 14 servings. However, each product has its own individual flavor with "You've Got Guts" in a unique Choco Cinnamon Banana, "Spring In Your Step" in Vanilla Cappuccino, and Raspberry Blackberry for "It's A No Brainer".