Feb 8th, 2021
With the rise in superfood products, we've seen a lot of different takes and angles in that area of the market, with supplement companies bringing together a variety of formulas. There have been straightforward greens products, comprehensive formulas also including ingredients for digestion and gut health, and some that put more attention on reds than greens.
The popular brand Jacked Factory has come out with Red Surge, which is one of those superfood supplements that is all about red superfoods. The product features a range of red-colored fruits and vegetables for natural energy, recovery, blood flow, and nutrient absorption. Red Surge includes beetroot, apple, cranberry, carrot, ginger root, blackberry, and blueberry.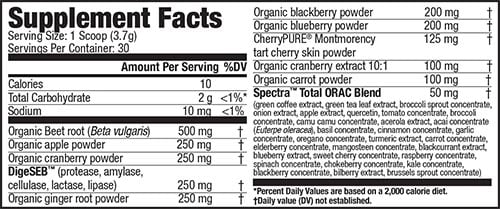 In combination with all of the more traditional superfood ingredients, Jacked Factory has thrown in a few premium features with 50mg of the fruits and greens blend Spectra, 250mg of the enzyme blend DigeSEB, and 125mg of CherryPure tart cherry to support muscle recovery.
Jacked Factory's Red Surge is quite an interesting supplement, which pairs nicely with Green Surge, its other superfood product that is, of course, all about greens ingredients. Red Surge is available now through the brand's online store for just $1 more than Green Surge at $24.99 for a tub of 30 full servings, and in the one Strawberry Lemonade flavor.