Feast Mode is the newest supplement from the hardcore brand MuscleMeds, originally known for its beef-based protein powder Carnivor that spawned several spin-offs such as the Carnior Brownie, Carnivor Mass, and a Carnivor RTD. Feast Mode is far from the protein powder category; in fact, the aim of the product is something we've only seen on a handful of occasions.
MuscleMeds Feast Mode is an appetite-increasing and weight-gaining supplement featuring ingredients to improve caloric intake, delay the feeling of being full, and increasing hunger. As mentioned, it is not a type of product you see often; it's actually more common to see it the other way around, with supplements aimed at reducing appetite and cravings to help with weight loss.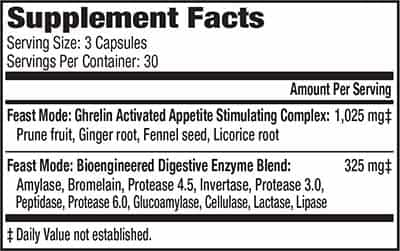 MuscleMeds directs users to take Feast Mode with their one or two largest meals of the day, calorie-wise. The formula powering the product is made up of two blends, the first a 1.025g mix of prune, ginger, fennel, and licorice root for appetite stimulation. The second is a 325mg blend full of digestive enzymes like protease, amylase, bromelain, lactase, and lipase.
MuscleMeds' all-new Feast Mode looks like it'll be available in retailers and online stores soon; Amazon actually already has it listed on its website, although it's temporarily out of stock. Based on Amazon's price, Feast Mode will cost you $25 for a full-size 30 serving bottle, which will see you through a full month or half that if you use its maximum of twice a day.