Feb 12th, 2021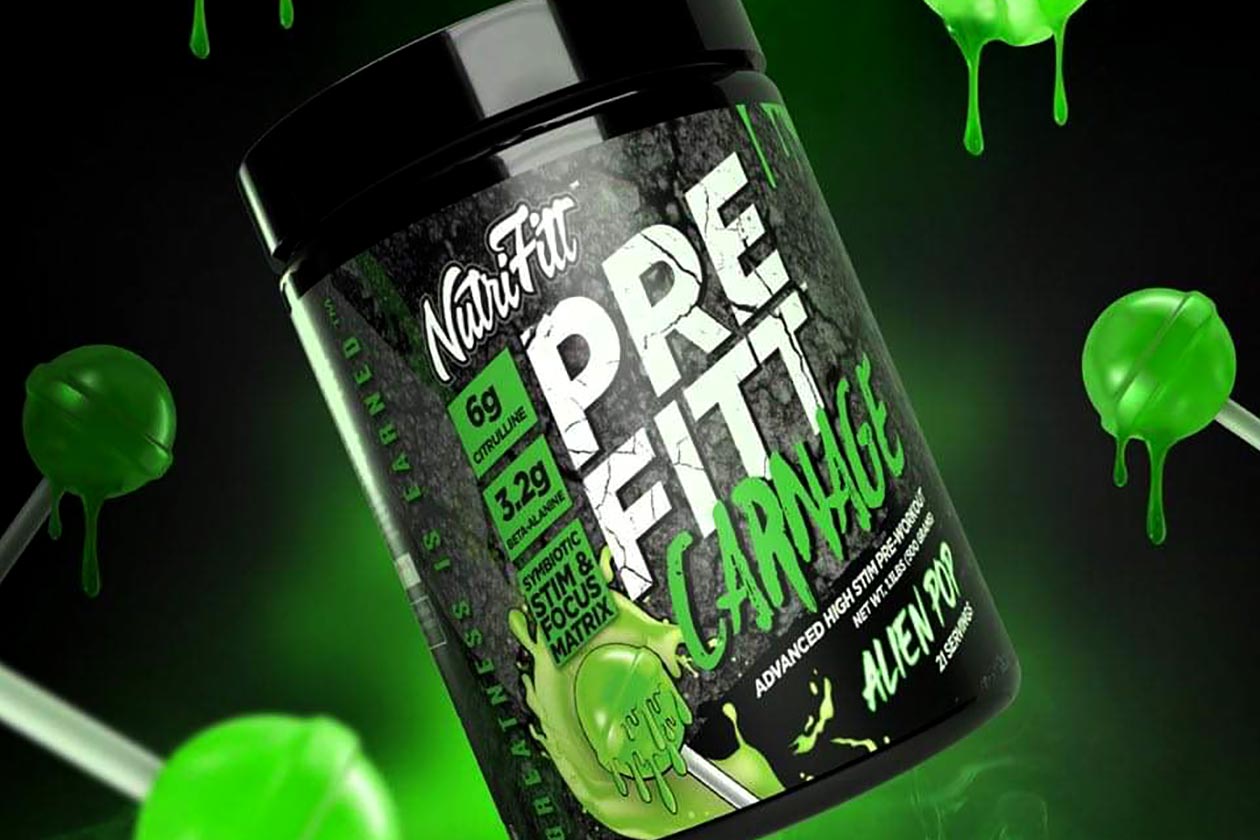 NutriFitt has introduced a special edition version of its stimulant pre-workout Pre Fitt, which aims to provide a more intense experience, with Pre Fitt Carnage Edition. The original Pre Fitt will still continue to be available, Pre Fitt Carnage is simply a stronger alternative for fans of the brand looking for or in need of a step up from the standard Pre Fitt.
NutriFitt's all-new Pre Fitt Carnage comes with many the same heavy ingredients as the regular Pre Fitt to support performance, endurance, and pumps. That includes pure citrulline but with 50% more at 6g, a full 3.2g of beta-alanine, 25% more betaine at 2.5g, Nitrosigine, and a gram of taurine. What primarily separates the two is the stimulant department, as Pre Fitt Carnage has a much more intense looking selection.
Pre Fitt Carnage packs a third more caffeine than the original at 400mg in a full serving, as well as halostachine, tyrosine for focus, 2mg of yohimbine, and 1mg of alpha yohimbine. None of those energy and focus ingredients highlighted — bar the caffeine — are in the standard Pre Fitt, so the Carnage spin-off is undoubtedly going pack a much stronger punch.
Looking at it on paper, Pre Fitt Carnage seems to be the more advanced pre-workout compared to Pre Fitt. As mentioned, it still features all of those key performance ingredients, some at higher dosages, such as 6g of citrulline and 2.5g of betaine. The biggest difference, though, is indeed the energy and focus, as Carnage just has a lot more in that area than Pre Fitt.
Another impressive detail for NutriFitt's Pre Fitt Carnage, outside of that much more robust and harder-hitting formula, is that it doesn't cost anything more than the regular Pre Fitt. Over on the brand's website, Carnage is priced at $39.99, the same as Pre Fitt, and that is for the same amount of 25 servings per tub in Alien Pop and Blood Cherry Lemonade flavors.