SST is Performix's original, premier fat burner, and since its debut, it's gone on to get several spin-offs and versions, including an energy drink, a box set in SST 24, and of course, the sequel SST V2X. For 2021, the brand is introducing another evolution in the long-running line of SST weight loss supplements with its latest and greatest formula, SST V3X.
SST V3X promises to be Performix's most intense, hardest-hitting fat burner to date, with a solid combination of stimulants to back up that promise. Like the brand's many other SST products as well as some of its supplements in different categories, V3X is enhanced with Terra Intelligent Dosing Technology to extend its effects over a longer period of time.
The combination of ingredients behind Performix SST V3X is split up into two sides: the stimulating part of the product, increasing energy, focus, and metabolism, then the others for extreme metabolism benefits. The more extreme metabolism side is a 908mg non-transparent blend made up of MCTs, CLA, rosemary extract, ginger, and parsley.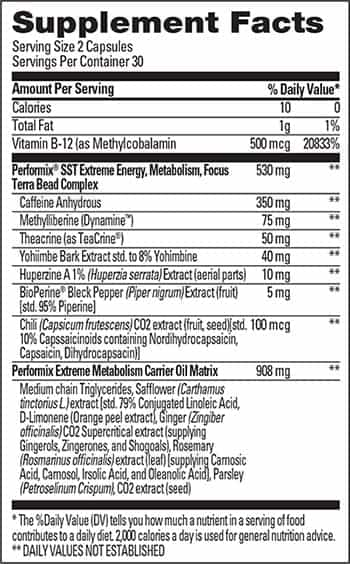 The stimulant side of SST V3X, which is responsible for that promise of a harder-hitting experience, is completely transparent, giving you the exact dosages of each ingredient per serving. That includes 3.2mg of yohimbine, huperzine a, chili extract, Compound Solutions' pair of TeaCrine and Dynamine, a solid 350mg of caffeine, and BioPerine to help with absorption.
Performix is planning to launch its stronger SST V3X exclusively through GNC sometime during spring, and it will have the usual amount of servings per bottle at 30 to last you a full month. When the weight loss supplement eventually hits shelves, it'll be difficult to miss as the brand has switched up the colors from black and blue to an eye-catching black and gold.