Just a week after announcing its upcoming, dedicated energy supplement, Chemix Energy, the Guerrilla Chemist's brand has revealed the formula behind the product. As you'd expect with the reputation Chemix has, its latest supplement brings together a potent blend of stimulants, all to deliver long-lasting, increased energy and enhanced mental focus.
You can get a glimpse at the ingredients and dosages Chemix has brought together for Chemix Energy below, and as mentioned, it is quite a potent blend. Caffeine is a key part of the formula, although it's not as high as you see in most pre-workouts, with two forms of the energizing ingredient in 200mg of caffeine anhydrous per serving and another 65mg of caffeine citrate.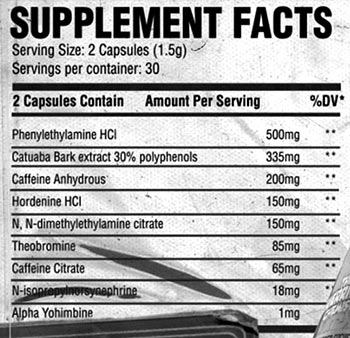 Alongside the combined dose of caffeine, Chemix Energy has 1mg of alpha yohimbine, theobromine, eria jarensis, half a gram of PEA, catuaba bark extract also found in Chemix Nootropic, hordenine, and isopropylnorsynephrine. The brand squeezes all of that into a compact two capsule serving size, with the usual 30 servings packed into each full-size bottle.
Despite Chemix Energy only being announced last week and its formula revealed today, the Guerrilla Chemist and his brand are wasting no time and officially launching the supplement tomorrow. It'll be available for purchase through the Chemix online store, with no word on price, although we don't imagine it being up there with some of its more expensive items.