May 6th, 2021
As we've mentioned many times before, despite Huge Nutrition still being a relatively new supplement company, it has an impressive selection of products covering all of the mainstream categories. The brand has several supplements for pre-workout and during your workout, a handful of formulas to help build muscle, and a couple of competitors in weight loss.
Within the next couple of months, Huge Nutrition is adding yet another muscle-building product to its arsenal with a testosterone boosting formula named "Exalt". The upcoming supplement is not short on active ingredients, combining for a total of 8.4g of actives per serving, although instead of coming in capsules like most test boosters, Exalt is flavored.
Huge Nutrition's Exalt does take a comprehensive approach to muscle building, with a formula providing a variety of benefits. On top of it being designed to boost testosterone, the product also aims to enhance libido, increase drive, and improve performance.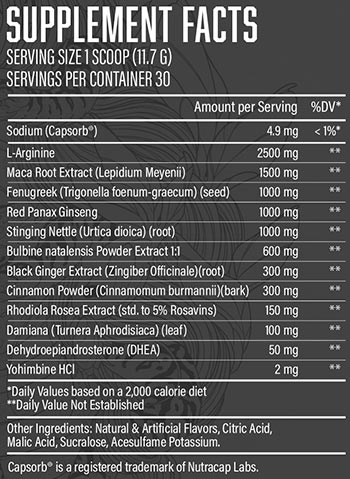 You can see all of the ingredients for Exalt in the facts panel above, with everything openly and transparently dosed. Most of the formula is made up of features you may already be familiar with, such as fenugreek at a gram per serving, maca at 1.5g, 50mg of DHEA, and a gram of stinging nettle. There are also 600mg of bulbine natalensis, 100mg of damiana, and 2mg of yohimbine.
As mentioned earlier, Huge Nutrition is looking to launch Exalt within the next month or so, where it'll be available in a Mixed Berries flavor and packing the usual 30 servings per bottle. We're not sure on the price of the supplement, but with the brand's other muscle builders sitting up in the area of 60 to $70, we imagine that's where Exalt is going to land.