May 14th, 2021
The reputable and always impressive UK brand Supplement Needs has announced its next entirely new supplement, and like all of its other products, it is complex, comprehensive, and loaded. GlucOX is the upcoming Supplement Needs product, which is a glucose disposal agent of sorts formulated to support glucose oxidation and improve insulin sensitivity.
You can see the full combination of ingredients Supplement Needs has brought together for GlucOX in the facts panel below, with everything, of course, openly and transparently dosed. The product includes a handful of commonly used GDA-type ingredients such as Cinnulin PF branded cinnamon extract, bitter melon, alpha-lipoic acid, banaba leaf, and chromium.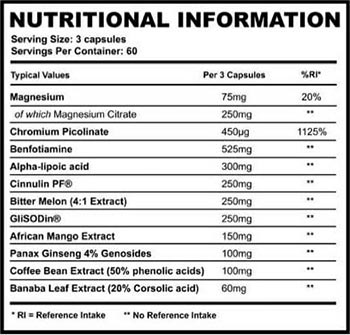 Supplement Needs really wanted to make GlucOX separate from the many other glucose disposal agents on the market, hence the somewhat different formula, featuring uncommon ingredients like premium GilSODin and benfotiamine. The brand built the product more to improve and support pancreatic function and insulin sensitivity, so it has some GDA properties, but that's not what it's all about.
GlucOX from Supplements Needs is currently expected to become available for purchase sometime next week. It'll be in stock first through the retailer and brand's online store, and while the price hasn't been confirmed, we don't imagine it's low. GDAs tend to sit quite high up on the pricing scale, and with Supplement Needs' premium approach, we'll have to wait and see.