Human Nutrition is another growing supplement company out of South Africa, an area of the world where we've seen and learned about many exciting brands. Human has been around for some time, although only more recently did it start to expand the lineup with this past month bringing the release of its latest testosterone booster, Ultimate Hyper Test.
The all-new Ultimate Hyper Test from Human Nutrition doesn't feature a formula as comprehensive as most of the testosterone boosters we see in the US, packing only a handful of ingredients. The product has the classic ZMA mix of zinc, magnesium, and vitamin B6, 1mg of boron, and lastly, tribulus at a light 100mg in each of Hyper Test's 30, two capsule servings per bottle.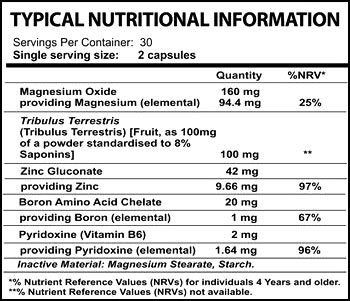 The formula behind Ultimate Hyper Test doesn't actually appear to be better than the testosterone booster already in the Human Nutrition family with Test Elevator. That also has zinc and magnesium alongside longjack, saw palmetto, cissus quadrangularis, horny goat weed, and tribulus, but at a much higher dose than 100mg with 750mg in a full serving.
Ultimate Hyper Test is now available in Human Nutrition's home country of South Africa, although we'd probably suggest grabbing Test Elevator if you can find it, which is listed as in the lineup on its website.