Jul 1st, 2021
Alongside the return of its Patriot Popsicle flavor of Amino Revolution, tomorrow, Muscle Sport is also launching a completely new version of its energy-infused amino, BCAA Revolution NRG. The main features of the supplement have remained mostly the same, as it is still a BCAA-based amino infused with a few ingredients to increase and improve energy.
You can see the facts panel for Muscle Sport's renewed BCAA Revolution NRG in the image below, where you get a 10g blend of aminos, consisting of BCAAs, taurine, glutamine, and HICA. There is also an electrolyte blend, like the product's predecessor, and a blend of mushroom extracts, although instead of 1.4g of premium PeakO2, you get half a gram of mushrooms, and it's not PeakO2.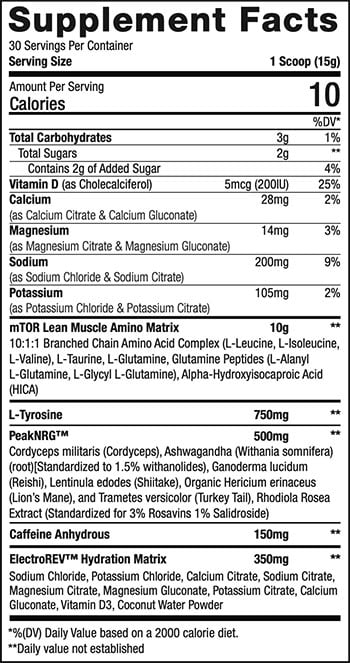 The only other ingredients in Muscle Sport's upcoming BCAA Revolution NRG are 750mg of tyrosine to support focus and 150mg of caffeine for a nice boost in energy, which is 25% less than the previous version. Once again, the refreshed supplement is due to launch tomorrow alongside the special edition Patriot Popsicle Amino Revolution for the 4th Of July.
Muscle Sport is planning to release its all-new BCAA Revolution NRG through its website with three flavors on its menu, all packing 30 servings per tub with Sour Apple Candy, Peach Mango, and similar to Patriot Popsicle, another Bomb Pop-inspired effort called Firecracker.