We recently posted about the new weight loss supplement Hydroxyburn Shred from Body Science, which is a product the Australian brand already had in its large lineup, although it's been given a completely refreshed formula for 2021. As it turns out, the brand has two fat burning supplements that have just hit the market down under, with the second release being Shred Ultra Advanced.
Like Hydroxyburn Shred, Body Science's Shred Ultra Advanced is a flavored weight loss product featuring a selection of ingredients to provide a variety of benefits. Based on its price point of $69.95 (51.44 USD) and its formula, Shred Ultra Advanced is true to its name and is the more advanced fat burner from Body Science compared to Hydroxyburn.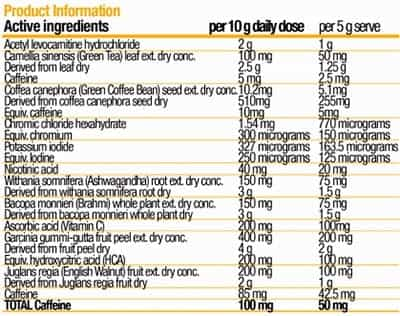 Shred Ultra Advanced has ingredients for energy, mental focus, performance, metabolism, thermogenesis, thyroid function, and cognition; it is quite a comprehensive weight loss solution. On the ingredient side, it does have some reliable features, although nothing dosed overly well, as you can see in the facts panel above, such as 150mg of ashwagandha, a quarter of the 600mg we more commonly see.
Body Science has packed Shred Ultra Advanced with the reasonably reputable stimulant juglans regia at 200mg per serving, which sits alongside caffeine at 100mg, so it should offer a nice kick. The supplement is out and available in Australia with 30 full servings or 60 half servings a tub, plus a great variety of flavors to choose from at five, including the likes of Passionfruit and Tropicana.