Gaspari Ageless is an all-new brand of specialized anti-aging supplements from the legendary bodybuilder Rich Gaspari, the man who is also behind the legacy sports nutrition company Gaspari Nutrition. Gaspari Ageless is being treated completely separate from Gaspari Nutrition, and with its anti-aging approach and the products it's going to have on debut, that does definitely make sense.
There are three supplements Gaspari Ageless is planning to launch with, and they're all somewhat self-explanatory with Brain Booster, Anti-Inflammatory, and Vitality Booster. Brain Booster (label above left) is the brand's nootropic-based product, created to enhance focus, concentration, clarity, and memory, while Anti-Inflammatory (label above right) aims to reduce joint soreness and, of course, inflammation.
As for Vitality Booster from Gaspari Ageless, that is a testosterone boosting supplement featuring a variety of reliable ingredients commonly seen throughout the popular category. Vitality Booster (label below) includes the likes of maca, tribulus, fenugreek, bulbine natalensis at half a gram a serving, DIM, and a few others, which all combine together to support drive, virility, and natural testosterone levels.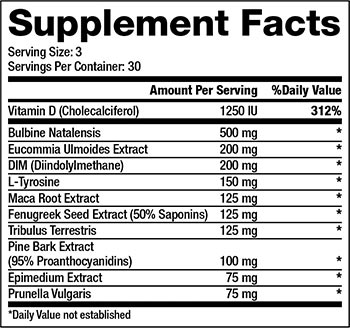 None of the Gaspari Ageless supplements are available yet, with the brand not setting any sort of release date, only saying the entire line is going to hit the market soon. As you can see above, we have got all of the facts panels for the products, so you know what you're in for, and can confirm they'll debut at gaspariageless.com at $52.99 a bottle, except for Vitality Booster, which will be $59.99.