Many popular individuals and influencers have come out with their own lines of supplements over the years, something legendary bodybuilding coach Charles Glass has actually gone and done. Glass is widely known as an incredibly knowledgeable trainer and goes by the nickname the "Godfather Of Bodybuilding" with over 400k YouTube subscribers, and 800,000 Instagram followers.
Despite Charles Glass' massive reputation, his first-ever supplement under the brand GOB (Godfather of Bodybuilding) Nutrition is not all that impressive. The product is called All-Natural Pre-Workout, and it is a stimulant-fueled pre-workout; however, it is one of the lightest-dosed products we've seen in the highly competitive category in many years.
Charles Glass and GOB Nutrition's All-Natural Pre-Workout has a small 6g serving size, and you can see the complete list of ingredients for that serving in the facts panel above. The supplement lists beta-alanine without a specific amount, arginine at 250mg, an incredibly underdosed 300mg of pure citrulline, far from the 6,000mg we're used to, 100mg of leucine, and 100mg of natural caffeine.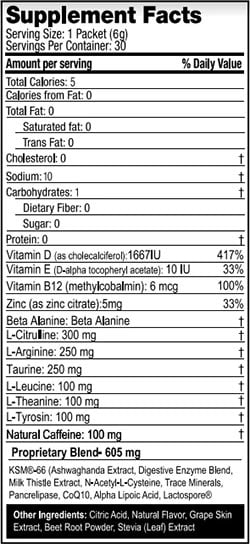 GOB Nutrition does have a non-transparent proprietary blend in All-Natural Pre-Workout too, and that is a combined 605mg of KSM-66 ashwagandha, digestive enzymes, milk thistle, NAC, minerals, coQ10, ALA, and Lactospore. With the reputation Charles Glass has, we expected something well above this, although it his first product, so hopefully, Glass and his brand can improve.
We're not too sure exactly when Charles Glass came out with GOB Nutrition and All-Natural Pre-Workout, it looks as though it's been around for a while, but the formula is still what you can see in the facts panel above. The severely low-dose supplement is currently available through Charles Glass' Godfather Of Bodybuilding website at $36.75 for a jar of 30, single-serving stick packs.