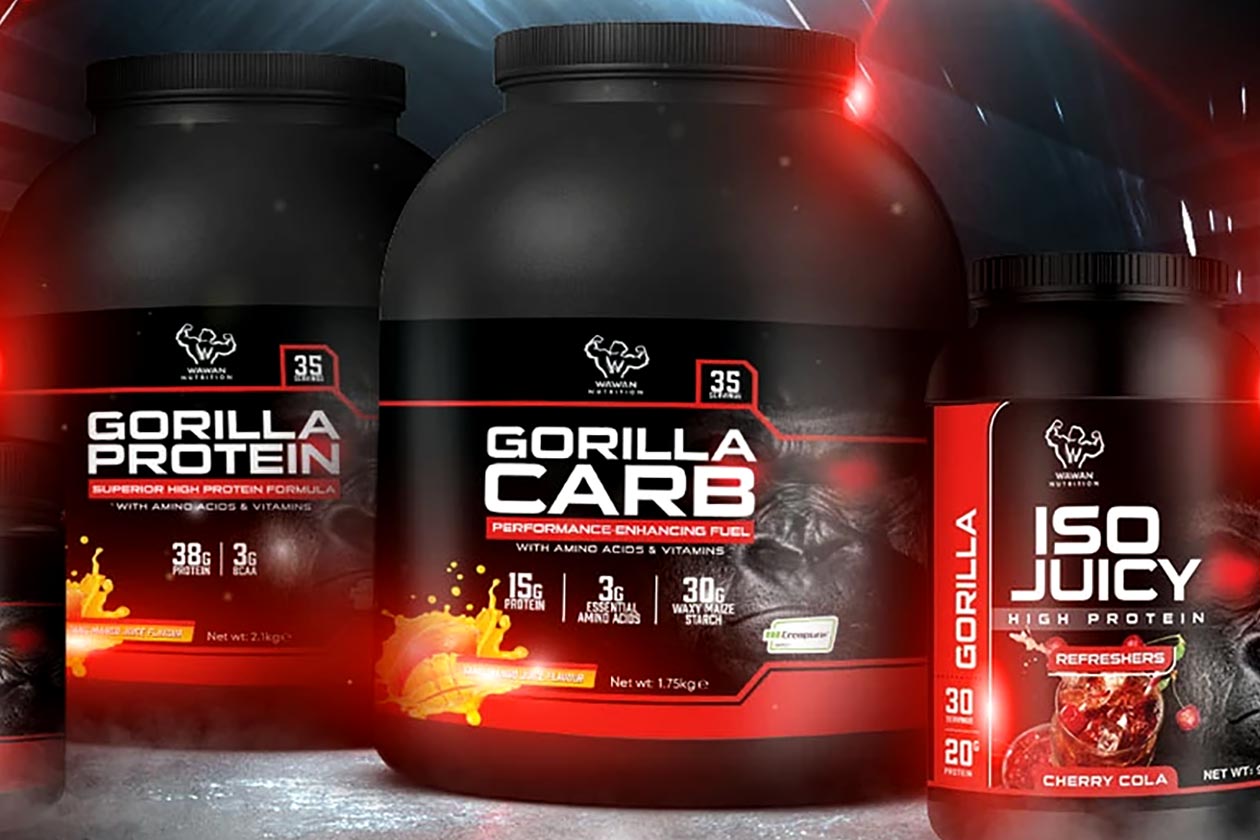 Wawan Nutrition from the major Middle Eastern retailer Wawan Protein has a new collection out this month called the Gorilla Series, made up of four different and mostly complex supplements. The products are all workout-related with two protein powders, each with a clear point of difference, then there is a full-spectrum EAA, and lastly, a carbohydrate-based peri-workout.
Gorilla Series proteins
The two Gorilla Series protein powders from Wawan Nutrition are Gorilla Protein and ISO Juicy. The latter is a high protein and moderate carbohydrate supplement packing 38g of protein alongside 16g of carbohydrates and 216 calories. The brand has also thrown in several other ingredients with 3g of all nine EAAs, another 3g of Creapure, arginine, HMB, coconut water, maca, and citrulline malate, all to make it far more than your typical protein.
As for Wawan Nutrition's ISO Juicy, that is a more straightforward protein powder with 20g per serving from premium whey isolate, and lean numbers everywhere else in its nutrition profile. True to its name, the product comes in refreshingly fruity flavors, seven to be exact with Fruit Salad, Watermelon, Cherry Cola, Mango, Ramadan Red, Raspberry, and Sour Apple.
Gorilla Carb and EAA
Next up is Wawan Nutrition's carbohydrate-powered peri-workout Gorilla Carb, featuring similar extra ingredients as Gorilla Protein with Creapure, citrulline malate, and HMB, but all led by 30g of carbohydrates from waxy maize. Lastly is the Gorilla Series amino Gorilla EAA, keeping it simple with only the nine EAAs in its formula; however, it comes through with an absolutely solid dose at 16g of EAAs in each of what looks to be 30 servings per tub.
Where to buy
All of Wawan Nutrition's relatively advanced sports nutrition and workout-based supplements are in stock and available through the Wawan Protein website. When it comes to price, they're not separated by too much, with Gorilla Protein and Gorilla Carb sitting at 29KD (96.14 USD) each, the other protein powder ISO Juicy at 22KD (72.94 USD), and Gorilla EAA at 20KD (66.30 USD).