Nov 17th, 2021
Jocko Willink's sports nutrition brand Jocko Fuel has come out with caffeinated pre-workout, separate from its energizing beverage Jocko Go and original pre-workout Jocko Discipline. The supplement has, in fact, been named after the energy drink with Jocko Go Pre-Workout, and it actually brings together a blend of both of those products, Jocko Go and Discipline.
The Jocko Go Pre-Workout has all of the key ingredients found in Jocko Discipline, and at the same dosages, except for theanine, which has been almost doubled to 95mg per serving. That includes Discipline's 2.5g of d-ribose, a very low half a gram of pure citrulline, nowhere near the 6g we typically see, another half a gram of acetyl-l-carnitine, and 250mg of KSM-66 ashwagandha.
There are, of course, ingredients on top of the familiar features of Jocko Discipline, with all of them being in Jocko Go Pre-Workout to add energy and focus to the experience. Jocko Fuel has essentially combined that Discipline formula with 100mg of theobromine, 50mg of bacopa, a light 100mg of alpha-GPC, and to match the dose of theanine, an equal 95mg of caffeine.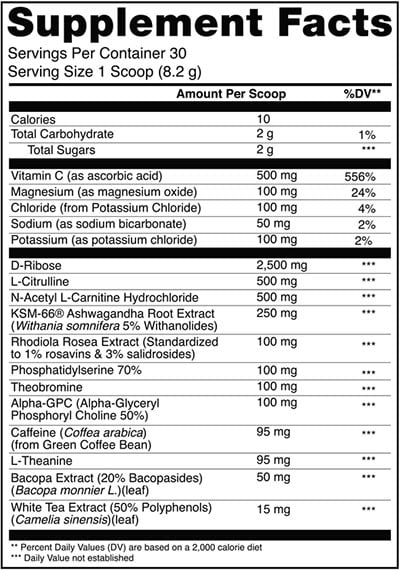 Jocko Fuel does only direct fans to take one serving at a time but has mentioned there is room to bump it up to two or three scoops, which would make some of the dosages a bit more respectable. It pushes the alpha-GPC to 300mg, caffeine to a stronger 285mg, and KSM-66 ashwagandha to a solid 750mg, although the citrulline remains relatively low at 1.5g.
The overall formula is not like the pre-workouts we enjoy and rank in our top five, however if you're a fan of Jocko Discipline, there is a good chance you'll enjoy this, especially if you've wanted more energy and focus in the supplement. Once again, Jocko Go Pre-Workout has all of those same key ingredients with a handful of additions to support those effects.
If you do bump Jocko Go Pre-Workout to two or three scoops, that will make the experience stronger, but also bring that 30 servings per tub down to only 10 or 20. Directly from the brand's website, the supplement is $44.95 or $40.46 if you subscribe for a tub every month, and it comes in Whoop Assault Watermelon, Sour Apple Sniper, and Mango Mayhem flavors.