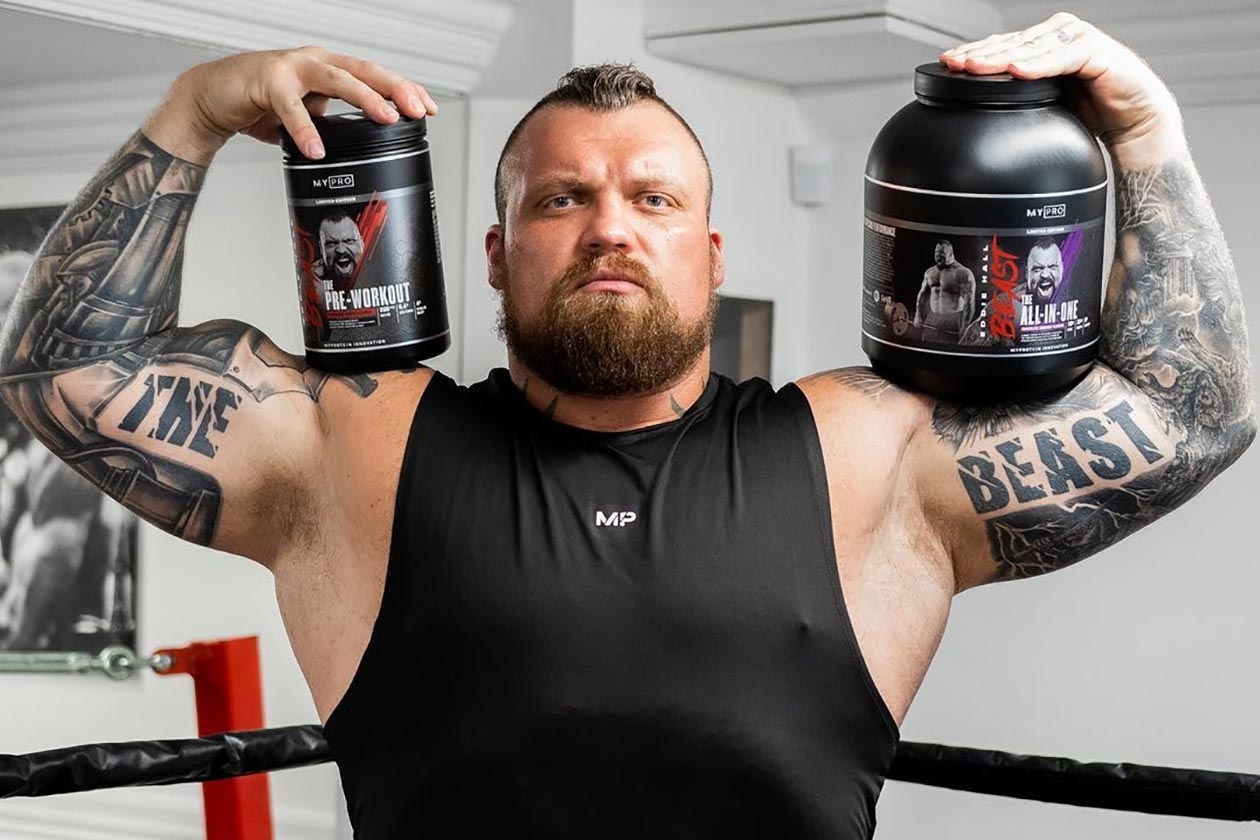 Myprotein has collaborated with its premier athlete and World's Strongest Man winner Eddie "The Beast" Hall for his own series of premium sports nutrition supplements. There are two in the line, one is a spin-off of the brand's well-rounded Pro Series pre-workout, The Pre-Workout, with a much more loaded formula, and the other is a calorie-dense post-workout, which can be classed as a mass gainer.
The Pre-Workout
Myprotein and Eddie Hall's supplements are called The Pre-Workout and The All-In-One. The Pre-Workout Eddie Hall Edition is a comprehensive product built to take before your workout and support all of the core pre-workout benefits. It has 4g each of pure citrulline and citrulline malate, a gram of GlycerSize glycerol to further enhance pumps, and a reasonable 200mg of caffeine for energy.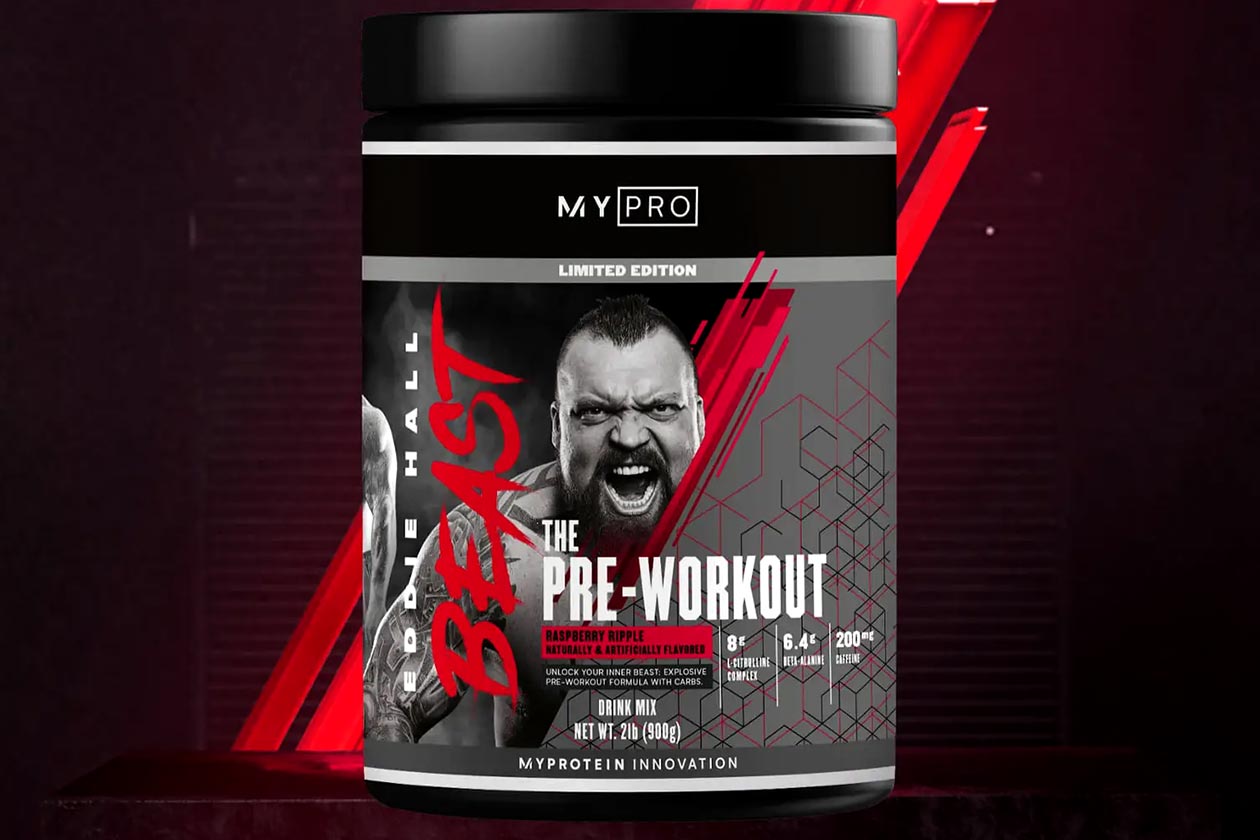 Alongside those features mentioned above, Myprotein's The Pre-Workout Eddie Hall Edition has a hefty Carb10 powered carbohydrates, 6g of creatine monohydrate, 6.4g of beta-alanine, 2.5g of betaine, and 50mg of Senactiv to support strength and performance. There are a few other ingredients thrown in on top of all of that, with 2g each of glutamine and the leucine metabolite HMB, and 300mg of the multi-benefit ashwagandha.
All-In-One
As you can see, Myprotein's Eddie Hall Series The Pre-Workout truly comes through on Hall's nickname, The Beast, and the post-workout The All-In-One is much the same. It is a mostly nutrition-focused supplement, featuring a solid set macros with 25g of protein per serving, 50g of carbohydrates with almost half of that sugar at 22g, a low 3g of fat, and a total of 329 calories.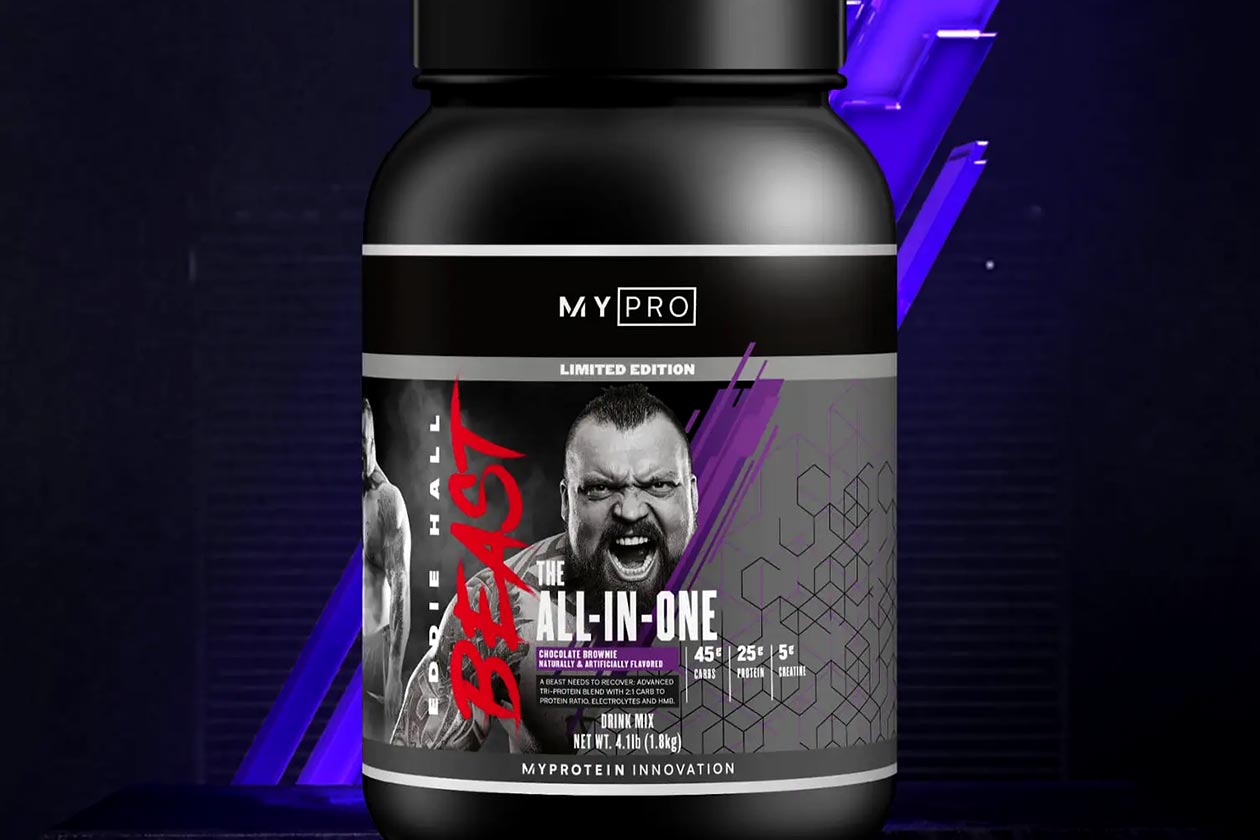 Like with any protein powder, mass gainer, or meal replacement, you can increase the serving of Myprotein's The All-In-One to suit your preferred nutrition profile. For example, you could easily have two servings, and double those numbers to 50g of protein and 100g of carbohydrates. The brand has also thrown a few extras into the product, including CreaPure creatine, glutamine, HMB, digestive enzymes, and Ganeden BC30 probiotics.
Where to buy
Both of Myprotein and Eddie Hall's supplements are only available for a limited time and are competitively priced when you use the currently live coupon code "BEST". That brings The Pre-Workout down from £36.99 to £22.19 (30.10 USD) for a tub of 20 full servings, and The All-In-One from £37.99 to £22.81 (30.94 USD) for a 20 serving tub of its Chocolate Brownie flavor featuring real biscuit crumbs.