Performax Labs has revealed the changes it's made for the rebranded and reformulated version of its original amino supplement EAmino Max, and there are quite a few things that have been switched around. The product is still a full-spectrum amino formula, featuring all nine EAAs to support muscle recovery and repair, and it has those EAAs at the same 7g dose as its predecessor.
Where the changes come in for Performax Labs' 2021 edition of EAmino Max, is in the areas outside of the EAAs. The original combined those amino acids with carnitine tartrate, HICA, and a hydration supporting blend. The updated supplement carries on that hydration blend, although it now consists of a gram of coconut water, pink Himalayan salt, and potassium chloride.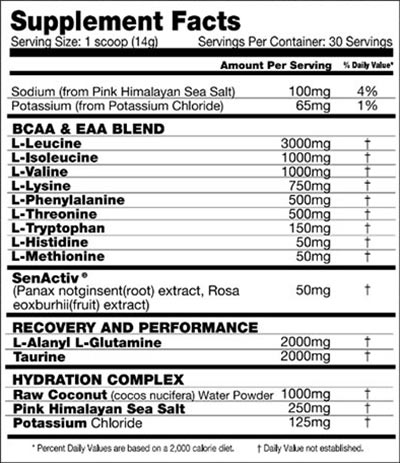 We've added the facts panel for Performax Labs rebranded EAmino Max in the image above, where you can see carnitine tartrate and HICA are no longer in the product. The brand has removed both of them in favor of 2g each of l-alanyl-l-glutamine and taurine to support recovery and performance, and for even more performance support, there is 50mg of premium Senactiv in there too.
Performax Labs is planning to launch EAmino Max within the next week or so, and it will have the usual 30 servings per tub, and three tasty flavors to choose from in Pineapple Mojito, Passionfruit Iced Tea Lemonade, and Cucumber Lime. There is a good chance the brand will also celebrate the launch with a sale, so be sure to keep a close eye on its website and social media.