Kaged Muscle has an all-new pre-workout coming down the pipeline with Pre-Kaged Elite. While Pre-Kaged Sport was sort of a simpler spin-off of the brand's original competitor Pre-Kaged, the Elite version is a step in the other direction. The upcoming supplement is a more advanced and certainly more packed out pre-workout featuring just shy of 30g of active ingredients.
Pre-Kaged Elite is similar to Kaged Muscle's regular Pre-Kaged, in the sense that it's a comprehensive pre-workout, created to support energy, mental focus, pumps, and performance. The promising Elite edition separates itself by having more ingredients and heftier dosages to deliver those effects, in turn providing a stronger and more complete pre-workout experience.
Comprehensive formula
You can see the formula for Kaged Muscle's Pre-Kaged Elite in the image below, and this thing is impressively dosed. There are some ingredients fans will recognize from Pre-Kaged in the more advanced Elite spin-off, including pure citrulline and CarnoSyn beta-alanine. However, as mentioned, many of the dosages in Pre-Kaged Elite are bigger than any other Kaged pre-workout.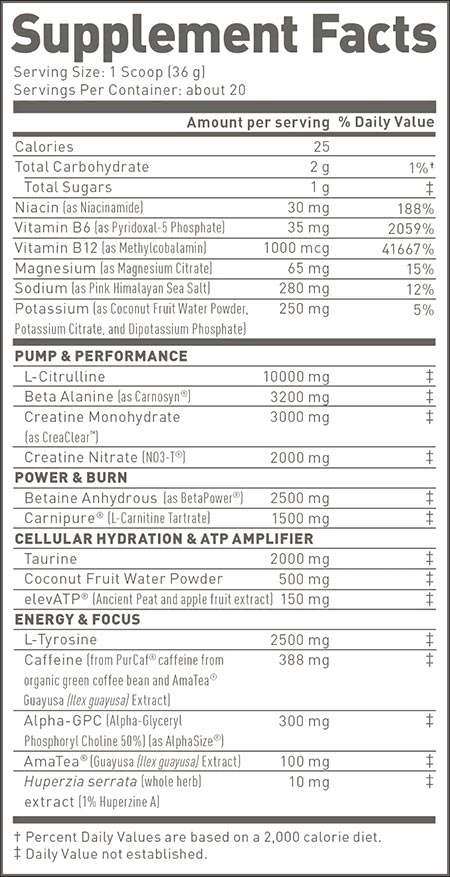 Some of the star features in Pre-Kaged Elite are 10g of pure citrulline for muscle pumps, two creatine sources with 3g of creatine monohydrate and 2g NO3-T creatine nitrate, 2.5g of tyrosine to enhance mental focus, and a full 3.2g of CarnoSyn beta-alanine. BetaPower betaine is also in there at 2.5g, like Pre-Kaged, as well as 300mg of AlphaSize alpha-GPC and 150mg of elevATP for performance.
Flavors and servings
Once again, Pre-Kaged Elite is that more complete and advanced pre-workout next to Kaged Muscle's other competitors in the category, Pre-Kaged and the simpler and cost-effective Pre-Kaged Sport. It is certainly a step up for fans of the brand and its pre-workouts, and it is launching through the brand's website in Strawberry Lemonade and Glacier Grape flavors with 20 servings per tub.