At the end of the week, AP Regimen is taking pre-orders for its promising new Legacy Series supplements, Legacy Pre-Workout and the stimulant-free Legacy Pump. The two products are both pre-workouts that can be stacked together for a powerhouse performance, and to let you know what you're in for we're here to share full details on the supplements.
Legacy Pre-Workout formula
In this post we're covering AP Regimen's Legacy Series Pre-Workout, the stimulant-powered product of the two, featuring a comprehensive blend of ingredients to support energy and mental focus, as well as performance and a bit of pumps. As mentioned, you can stack Legacy Pre-Workout with Legacy Pump, so while the former is not as balanced in the area of pumps as its other effects, that all changes when you stack the two.
AP Regimen's Legacy Pre-Workout is not short on premium branded ingredients, including the likes of NO3-T betaine nitrate at a solid 2g in a full serving, plus 450mg of PeakATP and 3.2g of beta-alanine to drive home performance. On the sensory side of the pre-workout, you get 25mg of straight Dynamine, 250mg of CDP-choline, and 300mg of caffeine to punch out the promise of increase energy and focus.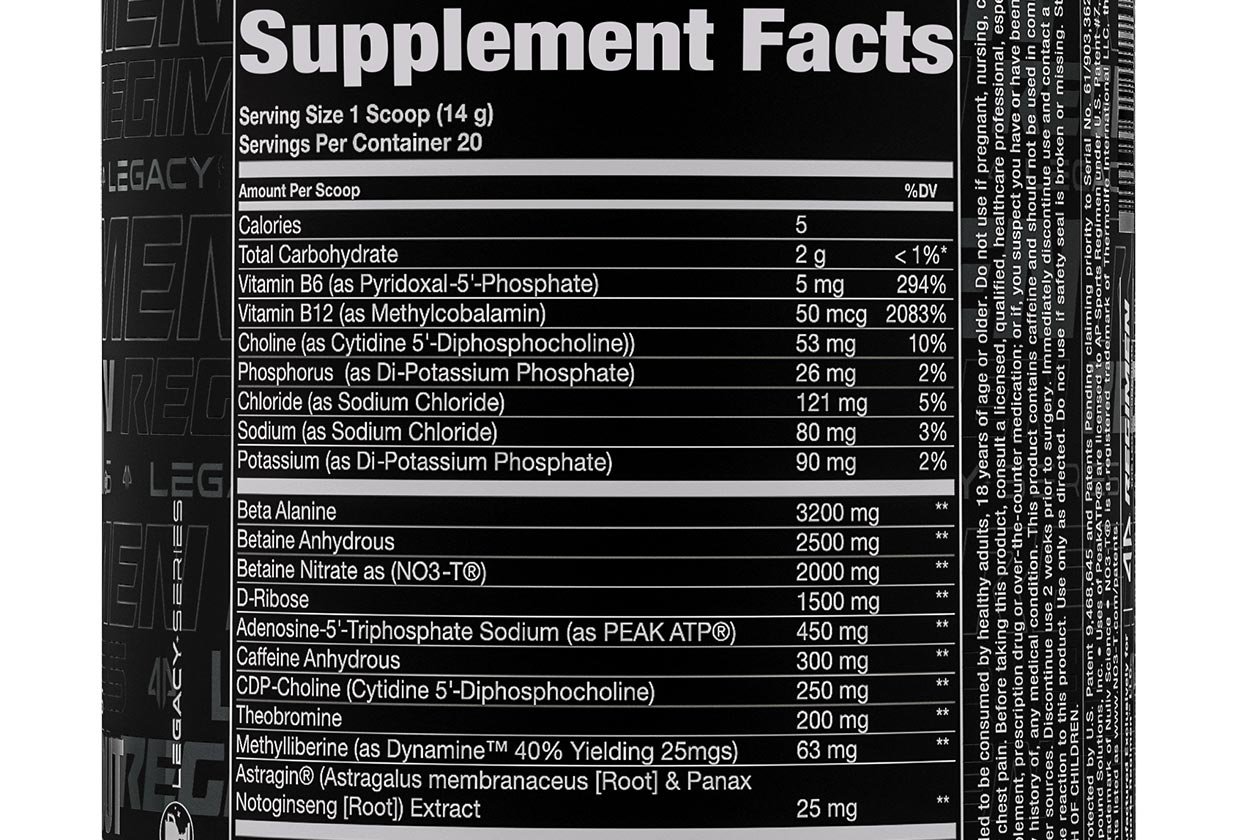 There are a few other ingredients we didn't touch on in AP Regimen's Legacy Series stimulant pre-workout, although you can see the formula in its entirety in the image above. The brand has kept everything open and honest, featuring a completely transparent label, so you know how much of everything you get per serving, with 20 of those servings in every tub.
Launch and stack deal
As mentioned, AP Regimen will begin taking pre-orders for its Legacy Series supplements at the end of this week with a handful of flavors to choose from, including a refreshing Berry Gusher. Legacy Pre-Workout is the more expensive of the two upcoming pre-orders at $49.99 a tub, however there will be stack deal, where you can get both at $79.99.