Legacy brand Beast Sports has dropped the full facts panel behind its upcoming entry into the fiercely competitive world of pre-workouts with Beast Mode X. It is indeed a comprehensive, stimulant-powered supplement, and it is the first pre-workout we've seen from the brand in four years after it reformulated Beast Mode in early 2018, not counting Beast Mode Pump from 2019.
The price for a full-size tub of 25 servings of Beast Sports' upcoming Beast Mode X is going to be $39.99, which is just in that competitive mainstream realm sitting under the $40 mark. Interestingly the brand hasn't packed the product with a few of the more common pre-workout ingredients, leaving out any sort of citrulline and the performance-supporting beta-alanine.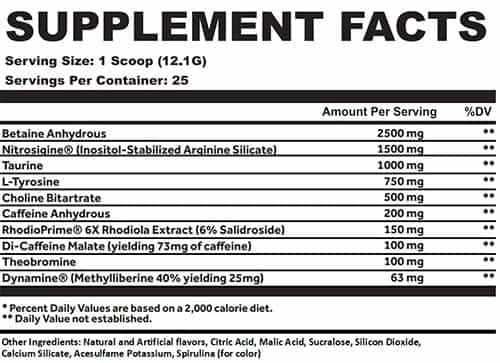 Beast Sports still has ingredients in Beast Mode X to power energy, focus, pumps, and performance, all of which you can see in its fully transparent facts panel in the image above. A serving of the supplement packs a full 1.5g of the pump-powering Nitrosigine, half a gram of choline bitartrate to support mental focus, premium RhodioPrime rhodiola, Dynamine, and a reliable 275mg of caffeine from fast and slow sources.
We're not sure exactly when Beast Sports is officially launching Beast Mode X, although the last we heard, the brand was planning to have it available later this month. One of the first places stocking the product will be Beast Sports' own online store, where, as mentioned, you'll be paying $39.99 for a tub of 25 servings with one flavor confirmed so far in the Bomb Pop-inspired Rocket Pop.