P6 is the long-running testosterone boosting supplement from Cellucor, the creator of the hugely popular pre-workout and energy drink C4, and it has seen many iterations over the years. It can be found as P6 Original, the mainstream variant; then you have the more advanced P6 Ultimate and the higher-priced spin-off, P6 Ultimate GH, featuring premium PrimaVie shilajit.
Cellucor has dropped another two P6 products this week, both of which are value-focused testosterone boosters, similar to C4 Original versus the cost-effective C4 Sport. P6 Alpha is now the cheapest P6 supplement you can purchase, with a formula that's obviously not as complex as the likes of P6 Original and P6 Ultimate, but has a competitive price of $24.99 for a bottle of 30 servings.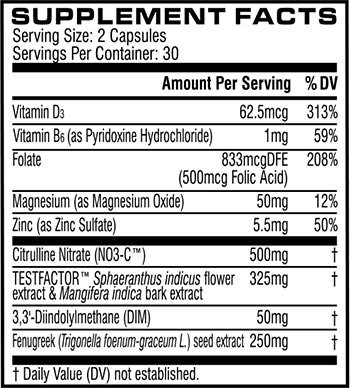 P6 Alpha aims to naturally boost testosterone and increase strength with a variety of vitamins and minerals alongside four key active ingredients, including half a gram of premium NO3-T creatine nitrate. The other three compounds Cellucor has squeezed into P6 Alpha are 50mg of DIM, 250mg of fenugreek, and 325mg of the branded blend of sphaeranthus indicus and mangifera indica.
Cellucor's newest testosterone booster rolls the formula together in a simple two-capsule serving, and again you get the usual 30 servings bottle, like all of the other P6 products at a price of $24.99. You can bring that down even further through the brand's website if you subscribe to $17.99 for your first bottle and $19.99 for every bottle you agree to receive thereafter.