This Friday, the up-and-coming brand GymFlo is growing its still relatively small selection of supplements, taking it from a total of four different products to five. Currently, the brand covers three popular categories with its stimulant pre-workout All Or Nothing, the more pump-focused stimulant pre-workout DPump, the amino Overcome, and the fat burner The Fever.
In a few days, GymFlo is launching another supplement for a category it already has two competitors in, with a third pre-workout, although this one is, of course, separate being stimulant-free. The simply named GymFlo Pump is the brand's upcoming product, and it features ingredients to increase and enhance muscle pumps as well as hydration and mental focus.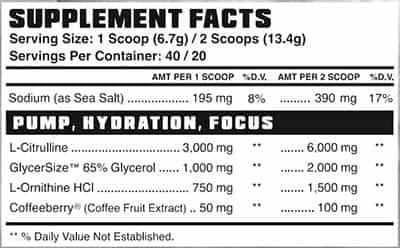 GymFlo Pump has a rather simple set of ingredients, although they're all respectably dosed, including 6g of pure citrulline and 2g of GlycerSize glycerol for pumps, 1.5g of ornithine, 100mg of premium Coffeeberry, and finally, sodium from sea salt. Again, the formula is fairly straightforward; with all of those dosages, what you get in a maximum two-scoop serving with 20 of those in every tub.
Once again, GymFlo is releasing its stimulant-free pump, hydration, and focus-supporting pre-workout this Friday, through its online store at $44.95, so $5 below the brand's stimulant pre-workout All Or Nothing. Being that it's stimulant-free, you can stack GymFlo Pump with All Or Nothing, with only some crossover in citrulline and glycerol, although they're still stackable.