Indian brand MuscleBlaze has taken its athlete's multivitamin MB-Vite and given it a massive upgrade, maintaining its original combination of vitamins and minerals but adding a lot more to it. The brand's general health and wellness supplement now has an additional five key groups of ingredients to help and support fans from several other angles and areas.
MuscleBlaze's updated MB-Vite has an added amino blend with an incredibly light 100mg of BCAAs, plus an insanely compact 25mg of glutamine and another 25mg of lysine. The brand then has an antioxidant blend with the likes of grape seed, ginseng, and lycopene, a combination of enzymes, probiotics, and prebiotic fiber for digestion and gut health, then finally, BioPerine and ginger to improve uptake of the formula.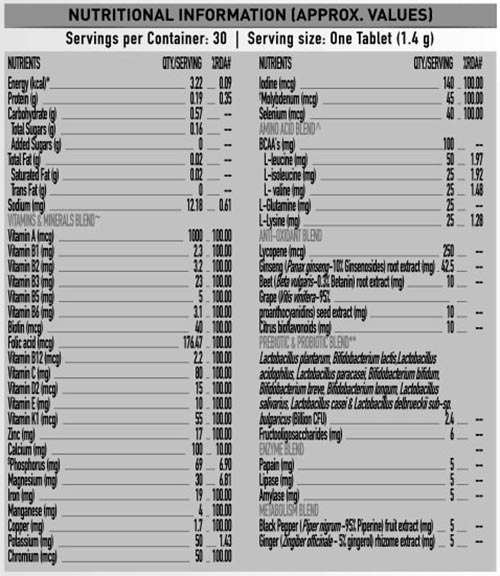 The revamped MB-Vite is essentially a more complex and advanced multivitamin from MuscleBlaze, keeping that original blend of vitamins and minerals and only adding to it by way of groups of ingredients for even more health-type benefits. The product doesn't have absolutely massive dosages, with the entire new formula featuring 51 different ingredients, all managing to be squeezed into a single tablet serving to be taken daily.
Fans of MuscleBlaze can grab the improved MB-Vite from several retailers in India and the brand's own website, where the health and wellness supplement is reasonably priced. Straight from the MuscleBlaze online store, the evolution of MB-Vite can be purchased in four sizes, with a 30 tablet bottle at ₹279 (3.68 USD) going up to ₹979 (3.68 USD) for a 120 count.