Growing brand Gorilla Mind from the hugely popular YouTube channel More Plates More Dates has created the testosterone booster Sigma. The supplement promises to do precisely that, naturally boost testosterone, and with several ingredients we've seen in this type of product before. The brand brings them together with respectable dosages packed into a convenient capsule format.
The list of components powering Gorilla Mind's testosterone boosting Sigma starts with the classic ZMA combination of zinc, magnesium, and vitamin D3, with 6mg of boron in there too. Next, you have all of the more reputable ingredients with 400mg of longjack, 300mg of ashwagandha, and 600mg of fadogia agrestis, and those amounts are what you get in the maximum daily serving.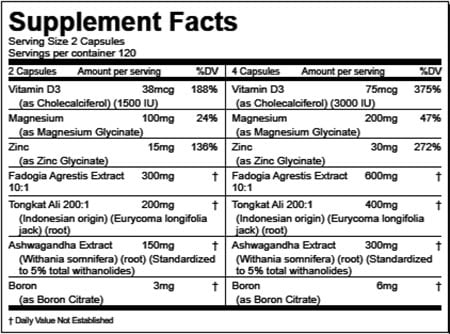 The combination promotes several promising benefits, including enhanced stress management, improved nutrient uptake, and, once again, maximized testosterone to, in turn, support muscle strength, size, and recovery. Interestingly, Gorilla Mind has not put the usual 30 servings into Sigma, with 120, and it directs users to take only as much as two per day, so an entire bottle will last you two months.
Gorilla Mind's Sigma is not all that expensive, especially when you consider it has that 60 maximum servings per bottle. Straight from the brand's website, the testosterone booster will cost you $59.99, working out to $30 a month. Gorilla Mind is also running a deal to celebrate the launch of the product with 10% off using the coupon "GORILLA10" dropping Sigma to $53.99.